9 - ft. Nanocat with folding sail kit
Item #: 2060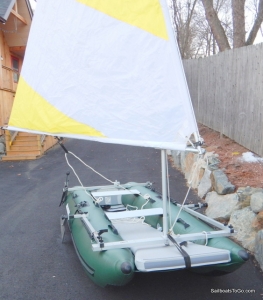 Inspired by the Saturn Nanocat NC290, this is our own Nanocat with our sail kit. It makes a really nice, extremely portable, inflatable sailboat. See price at bottom of page. The boat is light enough for one man to carry (about 55 lbs) yet it has carrying capacity of 600 lbs. The floor is raised above the water for lower hull drag. The material and construction is more durable than mass-market dinghies such as the Intex Mariners and Hydro-Force boats. Comes with one steering oar, leeboards, frame, mast, sail, attachment straps, and full instructions. Also included are pump, patch kit and boat bag. All the usual dinghy upgrades and options apply. This picture shows it with the 5011 sail and mast upgrade. Maximum engine capacity 2.5 HP. See it sail on this Nanocat Sailing Video (click here).

Here is the boat without sail on video click here

Sail kit accessories, options and upgrades CLICK HERE.

See also 11-ft. and 12-ft Minicat models, all with the same features.

Availability is spotty. Check with us.

Specs of hull not including sail kit:

OVERALL LENGTH: 9'

OVERALL WIDTH: 3.11'

INSIDE WIDTH: 1.3'

TUBE DIAMETER: 16.5"

CHAMBERS: 2+1

PERSON CAPACITY: 2

LOADING CAPACITY: 600 lbs

SHIPPING SIZE: 52 x 28 x 12"

COLOR: Red

SHIPPING WEIGHT: 60 lbs

MATERIAL: 1100 Denier PVC

AIR VALVES: Halkey-Roberts type valve by Naru

INFLATION TIME: up to 10 min.

MAX. ENGINE CAPACITY: 2.5 HP

Note: Specifications are subject to change.

We have improved the design by locating D-rings and other fittings to optimize it for mounting the sail kit.
PRICE: $1498.00 + $79.00 S&H --> BUY NOW! <--
---