Center rudder for inflatable dinghy sail rigs, substitute for side steering oar
Item #: 2043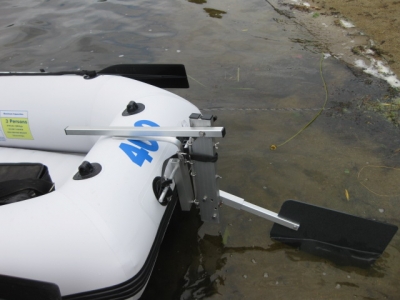 Add this item to delete the steering oar system (tiller on the side) from one of our sail kits or complete inflatable sailboats, and substitute instead a traditional center rudder and tiller. This is a substitution option, so you have to have a sail kit or sailboat in your order. [See item 2044 for item by itself, not as a substitution.]

We prefer the steering oar on the side, generally. It gives more control and allows you to sit centered, lean against the rear air chamber, and have the tiller at your side, right where your hand would naturally be. But for kids and some small adults you may find the center rudder more comfortable and convenient. Traditionalists may prefer it also. The rudder requires less arm effort than steering oar steering in a strong wind.

Center rudder steering works particularly well on the Navigator III 400, Solstice Quest and Nanocat for 2 reasons: (1) These models have a full-width stern (as opposed to many other boats that narrow toward the stern) so there is more room to either side of the center tiller and (2) they have really firm air chambers, so you can sit on the side air chamber without squashing it and use the center tiller really conveniently (just one of several ways to sit in this boat and use the center rudder). Here is an album of photos and video clips showing the Solstice Quest sailing with our center rudder: Click Here.

The rudder also works with our "tiller turner" system (sold separately, item 2017) which converts the control of the center rudder to a push-pull motion at your side.

Dinghy sail kit options, upgrades and accessories page: Click Here.
PRICE: $79.00 + $5.00 S&H --> BUY NOW! <--
---
© 2001 - 2021 SailboatsToGo, LLC. All rights reserved.