Sea Eagle Fold Cat 375fc and Sail Kit
Item #: 2031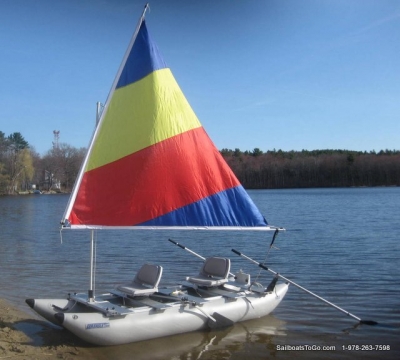 This is the complete Sea Eagle Fold Cat 375fc "Deluxe Package" (Sea Eagle terminology) plus our 45 SF sail kit (see item 2030 for sail kit description).

Upgrade this item to 55 SF sail and heavy-duty mast by adding item 5011 to your order.

See lots of pictures and video clips here: Fold Cat Photo Album (click) When you get to the album you'll notice some images are video clips and you have to click on them to launch them into action.

Add out clamp-on rudder if you prefer rudder steering.

Questions? Email Jim@sailboatsToGo.com or call 1-978-263-7598.

Boat is now green.

This includes two swivel seats, one seat pedestal (pedestal use is optional and may not be too practical when sailing), two oars, Scotty bases for fishing poles, carry bag for boat, foot pump, motor mount. Sailing with motor is no problem with this boat. This is a comfortable, stable boat that is fun to sail. Weight capacity rating over 600 pounds. Size is 12'4" x 4'6" inflated. Weight of boat is 75 lbs. Sail kit is about 35 lbs.

We think they should have called this the "Roll Cat" because putting it away is just a matter of taking off seats, sail kit, oarlock pivots and motor mount and rolling it up, metal benches and all! Pontoons are really rugged "crocodile skin" PVC you can pound on with the sharp end of a claw hammer. Sailing performance is very nice and real comfortable. See description of item 2030 for suggested upgrades.

Go to SeaEagle.com (click)for details on the boat, but come back here to buy (we save you $100 relative to their sale price!). You'll find it listed under "inflatable fishing boats" on their site, at the extreme right in that category.

Kayak sail kit options, upgrades and accessories page: Click Here. Dinghy sail kit options, upgrades and accessories page: Click Here.

Specifications

Person Capacity 2
Hull Weight 48 lbs. (75 lbs. with with aluminum cross boards). About 110 lbs with sail kit
Length 12 ft. 4 in.
Width 4 ft. 6 in.
Load Capacity 2 Adults or 650 lbs.
Deflated Approx. 56" x 21" x 10"(excluding sail kit)
Chambers 4 Air Chambers
Tube Diameter 16.5"
Air Valves Recessed One Way
Inflation time 10 min.
Seam Quadruple Overlap Seams
Material 1000 Denier Reinforced
Engine Capacity 3 hp gas (min 20" shaft, 45 lbs. max weight) or 70 lbs. thrust Electric Motor (min 30" shaft, 45 lbs. max wt.)
Floor Aluminum slat roll up over full fabric floor
Speed Estimates 8-10 mph w/gas, 4-6 mph w/ electric
Inflation Pressure 3.2 psi
folded size of sail kit 48" x 12 x 8" approx.

PRICE: $2199.00 + $0.00 S&H --> BUY NOW! <--
---