Tiller Turner lets you sail sitting centered in the boat with center rudder
Item #: 2017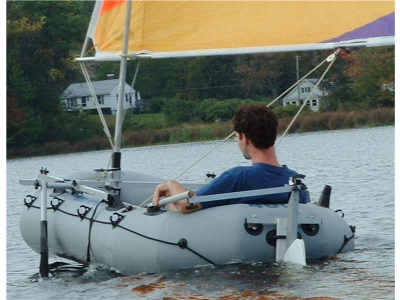 The Tiller Turner accessory for a center rudder gets the tiller (the handle that controls the rudder) out of the middle of the boat, so you can sit there. Eliminates need to shift sitting position when you tack. Steering becomes a push-pull motion instead of side-to-side. Tiller is moved to one side, where you can hold it with your arm resting on the side tube of your inflatable. Must be ordering the rudder (item 2043 or item 2044 or item 7007) at the same time to purchase this item. (Note: This item is only applicable if you are getting a center rudder. Our standard steering system, which we prefer in most cases, is the side steering oar system that is standard on most of our sail kits and sailboats. The steering oar system also allows you to sit centered with the tiller at your side.) More Info Click Here Dinghy sail kit options, upgrades and accessories page: Click Here.
PRICE: $75.00 + $0.00 S&H --> BUY NOW! <--
---
© 2001 - 2023 SailboatsToGo, LLC. All rights reserved.