Sail Rig for Zodiac-type inflatable tenders
Item #: 2009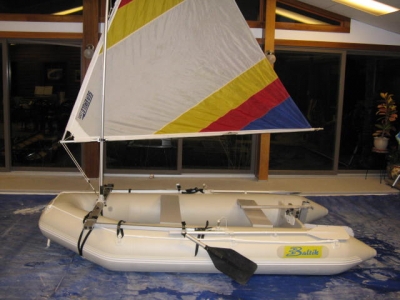 Put a sail on your Zodiac or the item 2010 Saturn 11 footer below or similar boat! Ruggedly built sail rig easily straps to fittings already on your boat (handles, D-rings, oarlocks -- there are always enough attachment points). Four steering options: (1) Standard rudder mount requires you to drill two little holes in transom for rudder mounts, which are easily removed (no tools, 60 seconds) to re-mount your outboard; (2) if you don't want to drill, buy our clamp-on rudder (item 7008 as substitution when buying this kit or item 7007 as a stand-alone item); or (3) get steering oar setup instead of rudder -- no drilling and allows outboard motor to stay in place (item 5036); or, (4) "Motor Rudder" option allows you to attach our rudder blade to your outboard (item 5037). If you prefer steering oar or Motor Rudder and don't want standard rudder, that's a zero-cost substitution -- just email Jim@sailboatstogo.com after you order. More Steering Oar Info Click Here. Or, more Motor Rudder info click here. Standard sail is 45 s.f. red/white/blue/yellow nylon. The sail rig is adjustable for boats of different lengths and widths. Tell us the width of your boat in the order comments (approx) so we can send a kit big enough to fit your boat. Entire rig is just 35 lbs. & folds to compact size. Options sold separately: (a) Custom duffel (47" x 9" x 6")for sail rig sold separately holds the ENTIRE rig -- rig folds that small! item 1090. Bigger, stronger rig bag is item 6007 (b) Custom sails in dacron, 45 s.f. or 55 s.f., or stock 55 s.f. nylon sail, item 5002 or item 5011 (c) Heavy-duty mast item 5016 (free with 55 s.f. nylon sail item 5011). Boats with greater freeboard may need leeboard extensions (item 2013). More photos & user comments: click here Dinghy sail kit options, upgrades and accessories page: Click Here.
PRICE: $849.00 + $40.00 S&H --> BUY NOW! <--
---
© 2001 - 2022 SailboatsToGo, LLC. All rights reserved.