Marine Pro inflatable dinghy with sail kit
Item #: 1080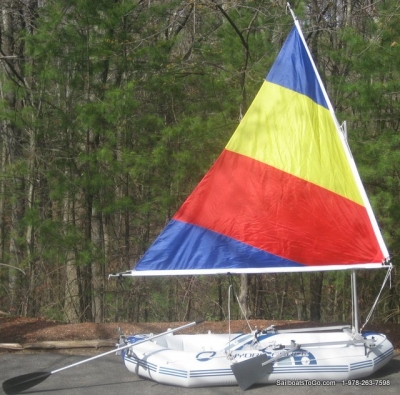 Lightweight and affordable, yet still a nice firm and rigid boat of excellent quality with wave-skimming upturn at both bow and stern. A personal favorite of Jim. Video click here. And for more pictures and videos Click Here.

This is a low-drag hull design comparable to the Mariner 3 but much lighter and therefore more portable. Built-in inflatable floor keeps it light and simplifies set up. We like this boat very much. Comes with pump, rowing oars and patch kit. The sail kit includes the 45 SF sail, spars, mast, frame, leeboards, straps, steering oar unit and one steering oar and oarpin. (Optional second steering oar is item 5031). Sail kit only (no boat) is item 2042 See deluxe package at item 1082, or to just upgrade the sail and mast to larger ones add item 5011 to your purchase. Comparison of Intex Mariner 3 to Hydroforce Marine Pro: Same size and shape. Mariner 3 has solid floor, which makes it heavier and bulkier. Hydroforce has inflatable floor, which is a little softer than a solid floor, but still pretty firm. Boat is about 30 lbs. Sail kit, about 34 lbs. Carries 1 to 3 people. The color scheme now is green & black. No more Blue and white available. Does not have motor mount fittings.

Dinghy sail kit options, upgrades and accessories page: Click Here. Note: Customer comment:

"Hi Jim! I bought a Hydroforce dinghy with sail kit from you last year and it's fantastic!!! -- works excellently and easily, instructions were great, and the boat is absolutely _tons_ of fun (and was a very good price too)! I tell all my friends and work colleagues about it, and I'm also thinking about getting one for my dad (who lives in New Hampshire) as a gift when he finishes his vacation place."

Boat is green with black and yellow. Does not accept a motor mount.
PRICE: $999.00 + $60.00 S&H --> BUY NOW! <--
---
© 2001 - 2022 SailboatsToGo, LLC. All rights reserved.