Sail kit for Saturn River Raft RD365 - rudder version
Item #: 1074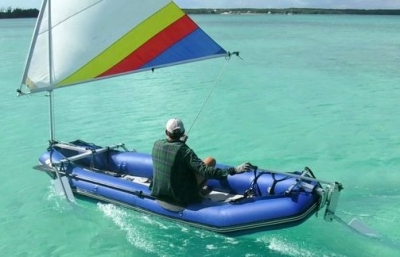 The sail kit for the RD365 Saturn Raft with rudder steering and 45 SF sail. To upgrade to larger sail, add item 5011 to your order. Please review other upgrades and options and consider adding some of them too.

For steering oar version, see item 1075

Standard rudder blade is phenolic just like our standard leeboards. Upgrade of the blade to polycarbonate is item 5193.

See video clip of sailing with the rudder.
PRICE: $879.00 + $40.00 S&H --> BUY NOW! <--
---