14' Pakcanoe with Deluxe Sail Kit Including Stabilizers
Item #: 1038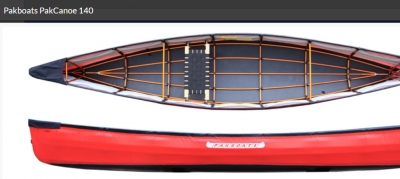 Just like item 1023 except the canoe is the Pakcanoe 140.

Here is how Pakboats describes it: "PakCanoe 140 is a solo canoe for small to medium size paddlers who do not need to pack a large amount of gear and supplies. Very nimble in tight places, it is excellent for small creeks where intricate maneuvering is needed. Like its larger siblings, the 140 performs well on flatwater as well as challenging whitewater." Of course, you're not going to sail it on "small creeks." But you'll enjoy it with the sail on other bodies of water where you have room to run!
PRICE: $2999.00 + $75.00 S&H --> BUY NOW! <--
---