Stabilizer pontoons for NuCanoe - Hydrodynamic
Item #: 1030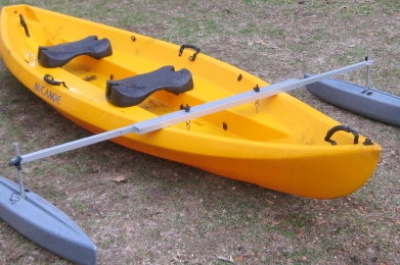 Stabilizer pontoons attach to the forward seat anchor points of your NuCanoe and vastly enhance stability. The hydrodynamic pontoons are strong and streamlined, appropriate even for motoring or sailing. Adjust in, out, up and down. If you later buy our sail kit, we'll credit you for the parts you already have and omit them from your sail kit. Float colors: Gray is the default. If you prefer red, yellow or mango please email us to let us know immediately after ordering. Consider getting a carry bag (item 3031) too. Similar products at lower cost: item 1031 (ethafoam stabilizer), item 1032 (inflatable stabilizer). Canoe sail kit options, upgrades and accessories page: Click Here.
PRICE: $369.00 + $25.00 S&H --> BUY NOW! <--
---
© 2001 - 2023 SailboatsToGo, LLC. All rights reserved.