Intex Mariner 4 with Our Sail Rig - Complete Inflatable Sailboat
Item #: 1005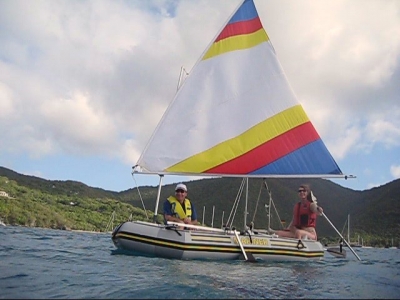 The Intex Mariner 4 is the boat to get if you plan to sail with 3 or 4 people and a picnic lunch. Video of Mariner Almost 11 feet long (130") and almost 5 feet wide (57"), with a solid roll-up floor. The cockpit is much larger than a Sevylor 11 footer, despite similar over-all dimensions, because the air chambers are smaller. Plus, the solid floor enhances the feeling of space because the floor stays relatively flat under your foot or bottom. This is an extremely stable, rigid, substantial-feeling boat. Under the floor is an inflatable spine running the length of the boat that gives the hull a "V" shape under the water, which helps it track well. The disadvantage of this boat is weight: The floor is 30 lbs and the boat is 36 lbs, so together they are about 67 lbs. (Other websites may disagree, but we have weighed it!) Fortunately, it's easy to remove and install the floor by deflating one main air chamber, so when we don't have help, we just separate the floor and the boat into two portable 30-something-pound packages. (FAQ: Can boat be used without floor? Answer: No). If you can't afford our Saturn or Baltic model but want a boat for group sailing with room for the cooler, this is the one. Comes with 45 s.f. nylon sail standard. This same sail rig will fit lighter boats such as the Intex Seahawk II so for an extra $100 - $200 you could give yourself a lighter-weight second hull as an accessory -- a different sailboat to take when traveling light. Accessories to consider: (a) Get our bellows foot pump or one of our electrics that run off the car cigarette lighter. (b) Sail options. Upgrade to 55 S.F. sail for more speed on days with weak winds. Upgrade to custom dacron sail in either 45 or 55 S.F. size and pick your colors. (Photo shows a custom dacron sail in 55 S.F. size.) (c) Heavy duty mast. (d) Carry bag for the rig. Either the standard bag just big enough for the sail rig or our new larger, heavy-duty bag -- same $39 price on either. (e) Floating waterproof cellphone case. More info With optional motor mount, can take up to 3 HP motor weighing up to 40 lbs. Maximum load in the boat is 880 lbs. If you already have the Mariner, and just want the sail kit, buy item 2001. Note: Mariner uses a 52-inch front crossbar that does not fit in bag, unless you order item 2057 snap-apart option. To sail with motor mount installed, add item 3022 clamp set.

Pandemic note: This boat has become hard to get and its price has become volatile. We may contact you saying we will have to pay more for the boat and offering you the option to reimburse us or cancel the order.

Dinghy sail kit options, upgrades and accessories page: Click Here.

Outside Massachusetts tax note: Sales tax of your state will be charged in a separate manual transaction after the order is entered.
PRICE: $1399.00 + $30.00 S&H --> BUY NOW! <--
---