Canoe Sail Kit w/ 55 SF Sail and Hydrodynamic Floats
Item #: 1004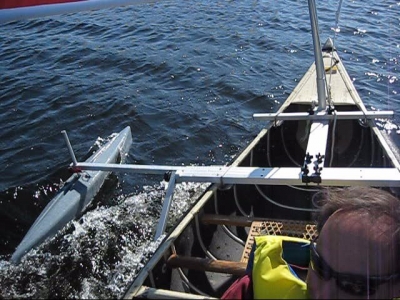 Complete canoe sail kit like the item 999, but with our bigger sail and taller, stronger mast. Includes hydrodynamic stabilizer floats, leeboards, steering unit and steering oar plus how-to-sail instructions, assembly instructions and all necessary hardware and ropes. With the larger sail, you'll go faster than you would with the 45 SF sail, especially in light winds. Upgrade to consider: Neil Pryde Dacron sail substitution item 5156. click here. Extras to consider: High seat (item 1007), Carry bag (item 6005), waterproof floating cellphone case (item 5015). Leeboard upgrade (item 5092). Second steering oar (item 5031) To read more about options, upgrades & accessories click here. Videos of our canoe sail rigs in action : CLICK HERE Video A ...and ...CLICK HERE Video B ...and...Video C....and...Video D. And for close-up still photos and more design details Click Here Choose sail colors: Click Here Tell us your color choice in the comment section of your checkout screen. If you already have a Sprng Creek stabilizer, order item 1017 plus item 5011 instead. Questions? Jim@sailboatsToGo.com . Shipping dimensions 48" x 12" x 12". 44 lbs.
PRICE: $1158.00 + $40.00 S&H --> BUY NOW! <--
---
© 2001 - 2021 SailboatsToGo, LLC. All rights reserved.