Conversion Kit - Canoe Sail Rig to Inflatable Sail Rig
Item #: 1003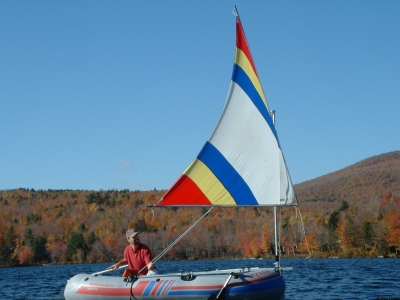 This package contains all the parts necessary to cross-fit your Canoe Rig to an Intex or Bestway inflatable dinghy (and some others)! Increase your sailing opportunities! Great for teaching kids to sail. Grownups love the comfort and convenience of inflatable sailboats. Please tell us the brand and model of your dinghy in the order comments space.

Included parts: (1) Front crossbar extension or longer front crossbar. (2) Side rails, which clamp onto your front crossbar to make a U-shaped front assembly. (3) Leeboard mounts. (4) longer center section for rear crossbar with bolts and star knobs. (5) right-angle piece for rear crossbar. (6) Straps. (7) Some boats require an L-shaped piece to stabilize the rear crossbar against flopping forward. If yours does, that too will be included.

Canoe sail kit options, upgrades and accessories page: Click Here.
PRICE: $179.00 + $20.00 S&H --> BUY NOW! <--
---