Return to: DIY Plans - Canoe Sailing Rig / Inflatable Sailboat Rig
Mast, spars, sail, ropes, mast slide in 55 SF size
Item #: 5169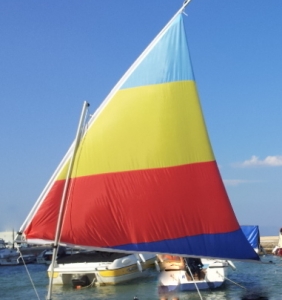 Heavy duty mast (about 8 ft tall x 1 1/4-in. diameter), 55 sf nylon sail, folding spar set with spar extension, ropes (halyard, sheet, downhaul), mast slide. Nylon sail available in any of our standard color schemes for nylon sail. Or you can upgrade the sail to a white dacron or Neil Pryde dacron in one of our standard Neil Pryde color schemes.



If considering this package for a DIY project, bear in mind that our mast is only tall enough if its base is at gunwale height (deck height) as it is on our sail kits. If you want the mast bottom to be down at the floor, you need our bottom extension to make it taller. Item 5045 is the bottom extension.

Even our heavy duty mast is a bit "bendy" in strong winds. It won't fail, but if you want a much stiffer mast then get the upgrade to the Super Heavy Duty mast . This will upgrade the bottom extenstion as well, if one is in the same order.
PRICE: $399.00 + $15.00 S&H --> BUY NOW! <--
---