High Performance Rudder for Super Snark & Sunflower
Item #: 8024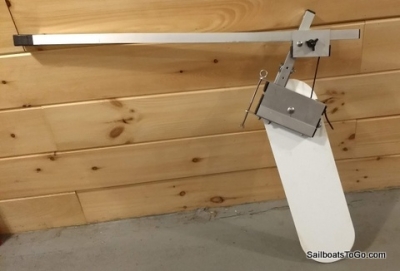 This better-than-OEM Snark rudder ships from our inventory so you get it faster! A better rudder in so many ways!

For Sea Skimmer rudder see item 8023 (same thing but with eye added to tiller).

- All metal rudder head, much stronger than the OEM plastic rudder head.

-Adjustable length tiller for flexibility in where you sit
-Bigger rudder blade for better control. And the blade is synthetic so it won't break or delaminate and neutral buoyancy so it won't float up.
- Self-locking hand knob for adjusting blade angle and holding it in place. No wrench needed!
- Rudder pin is an eyebolt with wingnut not an L-pin with cotter so it is so much easier to insert and you can tie a cord into the eye so the pin won't get lost!

Tiller length adjusts from 0 to 3 feet. Custom lengths available at extra cost.

Usually leaves here in 2 business days, Monday thru Thursday.

The adjustable length tiller lets you sit farther forward when you sail solo and farther back when you have a passenger.

Has the wind every overpowered your rudder when sailing downwind and forced the boat to turn into the wind? You'll stand a better chance of winning that fight with the bigger blade on this rudder.

Ever cursed the rudder L-pin when fumbling around to get it inserted and get that tiny cotter pin in? or out? Ever lost and L-pin? Those days are gone with the rudder pin on this rudder. It has a big eye on the top that's easy for fingers to grasp and allows you to tie a cord onto it. Tie the other end (with some slack) onto the rudder so you will never lose your pin. And the cotter pin is abolished! Instead, you have a convenient wing nut.

All these advantages, plus faster delivery and a great price!

Will fit Sea Skimmer, but you'll need to request an additional eye on the tiller for sheet rigging on the Skimmer (use order comment space).

Mates up to the current black plastic fitting on the transom. If you have the obsolete metal fitting, you need to order the black plastic one -- called a "gudgeon" -- and swap it onto your boat. See item 8025 for this rudder plus gudgeon.

For OEM rudder with wood blade and non-adjustable tiller see item item 8011.
PRICE: $139.00 + $20.00 S&H --> BUY NOW! <--
---