Dagger Board for Super Snark, Sunflower, etc 62420
Item #: 8010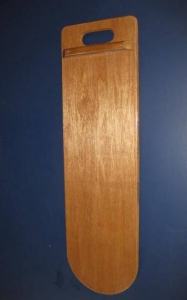 Replacement daggerboard, original equipment (plywood). Allow about 2 - 3 weeks for delivery (shipped direct from Snark).

Alternative: consider item 7970, (click!) our better-than-original upgrade made of an unbreakable synthetic, shipped promptly from our own inventory.

Fits Sea Snark, Super Snark, Sea Skimmer, Sea Devil and Sunflower. Some might call it a centerboard or even a keel, but technically it is a dagger board because it slides up and down rather than being pivoted like a center board or fixed like a keel.
PRICE: $50.00 + $20.00 S&H --> BUY NOW! <--
---