Better Daggerboard for Super Snark. Sunflower, Sea Skimmer - Unbreakable - Slides Easy - Ships Fast
Item #: 7970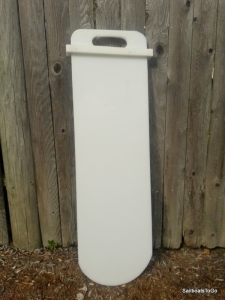 Our better-than-original dagger board for the Super Snark, Sea Snark, Sunflower and Sea Skimmer. Usually shipped within 3 business days of your order. Better because:

- Made of a tough synthetic material. No more worries about delaminating plywood.
- Stronger, which is important if you are pulling on it to right a capsized boat
- Thinner and smoother so it slips in and out easily.
- Fully covers the slot in the boat so less chance for water to spray up through the slot in rough conditions.
- Less buoyant so it will not float up.
- Shipped from our own inventory so your order is not delayed by factory order processing time.

For lower-cost similar synthetic daggerboard, discounted due to warp, see item 7971. For OEM wood dagger board to be ordered for you from the factory see item 8010.
PRICE: $65.00 + $20.00 S&H --> BUY NOW! <--
---