Cover for Boat, Canoe, Kayak from Danuu - The Skipper
Item #: 5205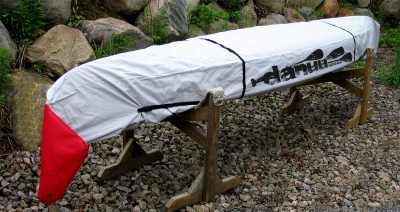 Adjustable form fitting drop-on cover with straps and draw string, designed to protect your boat from destructive UV rays, leaves, dirt, etc. when stored upside down. This is not a bag; it is open on the bottom with a drawstring to draw the opening tight. Then you can tighten it further with the included straps. This listing is for the Danuu "Skipper," which is good for the Super Snark, Sunflower, and Sea Skimmer as well as canoes up to 14 1/2 feet. Length is 14'6" and width is 76" but don't worry about it being too big because the extra material folds over and the straps secure it. For watercraft of 11-foot to 14.5 foot length. (Next two sizes up are the Ranger for 14.5 to 16.5 foot boats and the Scount for 16.5 footers up to 18.5 feet, costing $20 more or $40 more respectively).

See full details at the manufacturer's website: Danuu Covers (click). We don't list their every model, but we sell them all at 10% discount. Just ask Jim@sailboatsToGo.com .
PRICE: $196.00 + $26.00 S&H --> BUY NOW! <--
---