long strap with spring lock buckle
Item #: 5202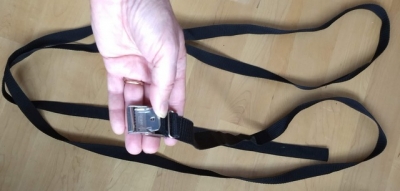 About 12 feet long and 1 inch wide with stainless steel spring loaded cam buckle. Cut to any length and seal cut end by passing through a flame (use caution until it cools). Great for holding boats on vehicle roof. Always use more than minimum number of straps when car topping a boat, for safety. We also use these straps on some of our sail kits to hold kit to boat.

Free shipping when ordering something else that has a shipping cost. otherwise, we will add $7 per 5 straps or less for shipping.

For the short straps, see item 5201 (click).

Superior to the usual straps sold elsewhere because the buckles are stainless steel. Buckles made of other metals have to be heavy, clunky and hard to start the end of the strap through in order to be strong enough. These buckles are strong, corrosion-proof, and yet made of thin metal so they are light and easy to handle. We've been using these since 2008 and our experience has been uniformly great. The brand is Arno, but be careful -- not all Arno straps are stainless steel like these are.


PRICE: $12.00 + $0.00 S&H --> BUY NOW! <--
---