Upgrade to 55 SF Neil Pryde Sail & Heavy Duty Mast
Item #: 5159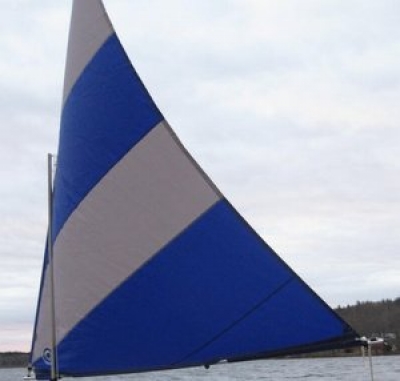 This is just like item 5011 except the sail is a Neil Pryde International Dacron sail. This cannot be ordered by itself. It can only be added to an order that includes a sail kit. It DELETES the 45 SF nylon sail in your order and SUBSTITUTES IN a Neil Pryde 55 SF sail. It also (a) adds the spar extension you will need for the larger sail and (b) upgrades the mast in your order to the heavy duty mast.

A Neil Pryde sail has premium quality workmanship with extra heavy stitching and reinforcement at stress points. The fabric is heavier and therefore less stretchy and more durable. Our other sails also perform well, but we offer this item for those who want the very best and don't mind paying a bit more for it. Four color schemes to choose from. See the color options on the page where we sell these sails by themselves here but don't buy anything there; please just look at the pictures there and then tell us the color scheme you want in the order comment space when you check out (Joy, Candy Stripes, Blue/Grey Stripes or Spring).
PRICE: $238.00 + $0.00 S&H --> BUY NOW! <--
---