Neil Pryde Dacron Sails
to fit Super Snark, Sea Snark, Sunflower and SailboatsToGo Sailboats
Custom Quality Dacron Sails Without the Wait! In stock!

SailboatsToGo has commissioned the internationally famous sailmaker Neil Pryde to design and produce these deluxe sails for your boat. Features: Computer-optimized shape, high quality dacron sail fabrics, fine craftsmanship and detailing. The result is a high performance, strong, long-lasting sail. Neil Pryde makes sails for big ocean-going yachts. They know their stuff!

If you are buying a sailboat or other product with a nylon sail included, you can substitute a Neil Pryde Dacron sail by clicking the "Upgrade Now" link in the next box.

If you want to buy a sail to fit an existing boat or sail rig or project you are building, click the "Buy Now" link in the next box for the 45 or 55 size.

1) Order Here:

Upgrade sail already in your order to Neil Pryde Dacron: $79 (either size) Upgrade Now

Or

Buy a Neil Pryde sail in 45 SF size $169 BUY NOW

Or

55 SF Size $229 Buy Now

2) Email Jim@sailboatsToGo.com to specify color scheme choice (see pictures below) or put in comments section of checkout page.

Thanks!
In the 45 SF sail size (fits Super Snark, Sea Snark, Spring Creek, Sea Eagle Paddleski, older Sea Eagle Sailcats, and SailboatsToGo standard-size rigs) these are the designs available:
Red -White 45 "Red Stripes 45" (Zowie on red canoe or kayak!)

Also available in 55 SF size

Aqua - yellow - white 45 "Pastel Corners 45" ("Joy")

Also available in 55 sq. ft. size and the photo below of this color scheme in 55 SF size might be more helpful.

"Screamer" (Picture at left)

This is not actually a Neil Pryde sail but it is of equal quality, made in USA by a sail maker we cannot name, using Dacron material. It has a very unobstrusive "SNARK" logo in lower right panel. Since it is black letters on dark blue, the logo does not stand out.

An excellent sail. And very jazzy to look at! 45 SF
In the 55 SF size (fits Sunflower and our rigs with heavy duty mast and spar extension) we have these designs:
(Please state color scheme choice in comments section of checkout page.)
Above: aqua yellow white "Pastel Corners 55" ("Joy")

Below: Red White "Red Stripes 55

Above: Yellow White with a Blue Peak "Peak Experience 55" ("Spring") Another photo way down on page shows on Sunflower.

Below: The "Gray Stripes 55" Neil Pryde Sail in action on a Fast Track 465FT

Blue - Gray "Gray Stripes 55" (Looks great on blue and white or blue and gray boats, especially).
(Please email Jim@SailboatsToGo.com to state color scheme choice or put in comments section of checkout page).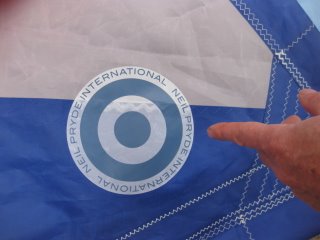 The Neil Pryde brand signifies quality in sail making for yachts, windsurfers and our boats! Look at how sharp the Peak Experience color scheme looks on a Sunflower Sailboat: