Giant 66 SF sail with mast, spars and mast slide
Item #: 4986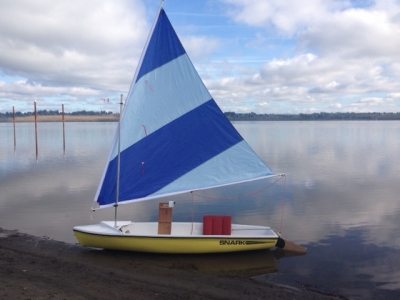 Our 66 SF nylon sail, with the heavy duty mast and spar set with mast slide and ropes. This sail is too big for most small boats in high winds, but is just the thing for making the most out of weak winds. Get this as a supplement to your main rig, to use on light-wind days. If you already have our spar set, you don't absolutely have to have another spar set for the bigger 66 SF sail (just spar extensions), but having a second spar set makes it so much easier and faster to change sails. At this price you can specify 1 1/4" mast diameter (fits our mast step) or 1 1/8" (for Snarks and Sunflowers). We also offer similar packages without mast.

For a stiffer mast (a good idea with this large sail) add the Upgrade to Super Heavy Duty mast to your order. This Super Heavy Duty mast is fatter, so to use it in our rigs you also need to order the bigger mast step that we make for it.

Note for DIY project builders: The height of this mast (both Heavy Duty or Super Heavy Duty) is only appropriate if the bottom of the mast is at gunwale height (deck height) as it is on our rigs. A lot of DIY designs put the bottom of the mast at floor level, and in such cases you will need our for the mast in this package.
PRICE: $419.00 + $15.00 S&H --> BUY NOW! <--
---