Return to: Inflatable Dinghy Sailing Rigs
Fishing Boat Sail Rig
Item #: 7000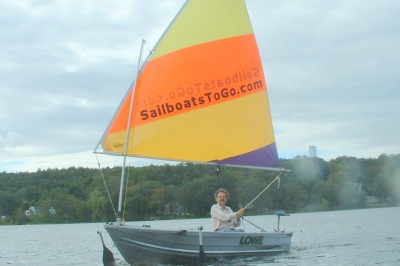 Everything you need to sail your fishing boat in a compact folding kit that just clamps on and away you go. No drilling or other modification of your boat is needed. This is intended for aluminum, fiberglass and plastic open boats. The gunwale clamps grab underneath the little horizontal lip that almost all such boats have at the top edge of the sides. If your boat has no lip, we can provide a bolt-on bracket that the clamps can mate with for $19 additional.

The rig includes a 45 s.f. nylon sail (red-white-blue-yellow), spars, mast, mast step (socket), frame that clamps to the boat and accepts the mast step and leeboard mounts, leeboards, gunwale clamps, a rear crossbar that goes just forward of the transom and provides pivot points for the ruddering oar, and a special wide-bladed ruddering oar and oarlock. You can even sail with an outboard mounted on the transom, because our ruddering oar (steering oar) system has many alternate pivot points: If the center positions are blocked by an outboard, use one of the side positions. If you prefer a traditional rudder, see .

Another option to consider is a larger sail and stronger mast. The larger sail/stronger mast combination is item 5011 A spar extension to accommodate the larger sail is included in the upgrade price. Custom-made dacron sails are also available in both the 45 S.F. and 55 S.F. sizes -- you choose the colors and custom lettering is available at $7/letter. A heavy duty carry bag for the rig is $39 extra (item 6005). Or see item 7001 or item 7002, deluxe packages.

The picture illustrating this item shows a custom dacron sail that is 55 S.F. and has custom lettering with our company name. If you order a custom sail, you would choose colors; lettering saying whatever you want would be optional & cost $7/letter. LINK More pictures, video and details click here

Canoe sail kit options, upgrades and accessories page: Click Here. Dinghy sail kit options, upgrades and accessories page: Click Here.
PRICE: $799.00 + $30.00 S&H --> BUY NOW! <--
---