Return to: Inflatable Dinghy Sailing Rigs
Intex Mariner 3 (was Seahawk II) with our Sail Rig - 10'
Item #: 2022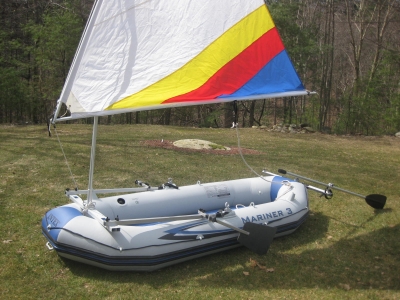 Nice stiff hull, with a wave-skimming upturn at bow and stern. Just like the Hydro-Force and the Mariner 4, this boat has thicker, reinforced fabric that allows it to take a little more air pressure without stretching, and thats the secret to its rigidity. With solid slat roll-up floor and inflatable keel. Weight is about 65 pounds. If you want the same size and shape boat with inflatable floor and much less weight (34 pounds) order the Hydro-Force Marine pro (item 1080 or item 1082). Standard sail is the 45 SF nylon sail -- see color options and let us know your pick. For deluxe package see item 1093. To sail with motor mount installed, add item 3022 clamp set. Weight capacity 790 lbs. 3 person. more info click here Motor mount is item 3015. "Took mine out on a day there was very little wind and it still went. Slowly but still fun. Took it out just now in 10+ mph wind and I was zipping along. Super fun. I'm going to sail down the East River (NYC) this or next weekend! :)" -- Customer comment on SalboatsToGo Seahawk II sailing video on Youtube(July 2011) See video (click arrow): Note to customers in Europe and perhaps other countries: It will probably work out best for you to purchase the Mariner 3 online from a seller in or near your country and then just purchase the sail kit and other accessories from us. See for example this listing in the Netherlands: http://www.opblaasbootshop.nl/intex-mariner-3.html and you can also find it on Amazon German website. Dinghy sail kit options, upgrades and accessories page: Click Here.br>
Pandemic note: Boat costs have become very volatile so we cannot promise to honor this price. If we need to charge more, we will contact you and give you an opportunity to approve or cancel.
PRICE: $1149.00 + $30.00 S&H --> BUY NOW! <--
---
© 2001 - 2021 SailboatsToGo, LLC. All rights reserved.