Return to: Sailing Canoe - Canoe Sailing Rigs
Heavy duty mast
Item #: 5039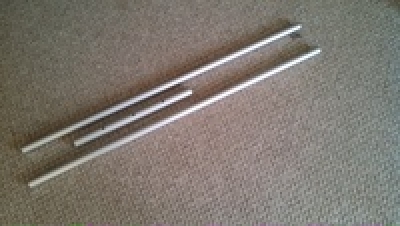 Heavy duty mast fits our sailboats and sail rigs, Spring Creek and Sea Eagle Paddleski. Bottom section (which takes most strain) is twice as strong as standard mast. Use this item to buy the mast not as an upgrade. Use item 5016 instead to upgrade the mast on a sailboat or sail rig you are ordering today. (Note: Mast upgrade is free is you also select item 5011, upgrade to larger sail, and select the nylon sail option). Snarks: This mast will fit Sunflower and Snark sailboats, if you remove the boat's mast sleeve. Masts that are 1/8" smaller in diameter and therefore designed to fit inside the Snark mast sleeve are listed separately.
PRICE: $119.00 + $12.00 S&H --> BUY NOW! <--
---
© 2001 - 2019 SailboatsToGo, LLC. All rights reserved.