Return to: Sailing Canoe - Canoe Sailing Rigs
Inflatable stabilizer floats and arms -white
Item #: 1013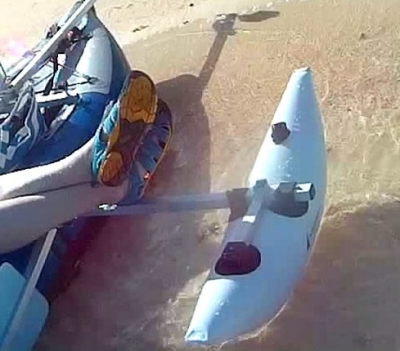 Inflatable stabilizer floats with float arms that slide into the front crossbar of any of our sail kits.

Don't have a pump? We have a good one for a low price: Click here (item 3007). But inflation by mouth also works well-- about 8 puffs.

Combine this with a Crossbar and clamps for a complete stabilizer system if you don't have a sail kit.
Rugged, yet more portable than our other stabilizer floats because they deflate. Very puncture resistant and they inflate quickly and easily a few strokes of the pump or puffs by mouth. This item is not designed with the up/down adjustment. This item is just floats and arms for adding to a sail kit, rowing setup, or other product that already has crossbar for them to slide into. For sailing, you generally use floats in all-the-way-up position anyway, so if that's the intended use of your stabilizers, you don't need up/down adjustment. But we can upgrade to a version with up-down adjustment for $20 more. Just put a note in the order comments. Click Here for Video. Our item 1006 rigid stabilizer perform better in some respects but are not as portable and compact to store. Free shipping applies if ordered with other things. If ordered alone, we will add $15 shipping when we process the order.

This is our own house-brand product and if a much improved product, in that the floats have thicker skin and 3-point attachment system so they hold their shape better and resist tipping forward or backward.

Customer writes: 'I LOVE IT' Hi Jim! Sailed for the third time on the setup today. Sails GREAT! I LOVE IT! Very lively winds today, 12-16 knots at times. Boat handles great under sail, glad I got the inflatable stabilizers for sailing solo. (The hydrodynamic ones would be great but I needed everything to be RV packable.) \ Thanks, Frank K. (put our sail kit on a Sevylor XK17 inflatable kayak)

Canoe sail kit options, upgrades and accessories page: Click Here. Kayak sail kit options, upgrades and accessories page: Click Here. Dinghy sail kit options, upgrades and accessories page: Click Here..
PRICE: $179.00 + $40.00 S&H --> BUY NOW! <--
---