Canoe Stabilizer
Fits All Canoes - W
e ship worldwide (see very bottom of page) -
Free shipping to lower 48 US states!
A favorite for hunting, fishing, sailing or paddling with kids or dog in the boat. Pontoon floats on telescoping outrigger arms to prevent tipping. UPS ground standard. American made. Floats adjust up, down, in, out on the fly. Warrantied. Upgrades to overnight, 2-day or 3 day shipping available, Tel: 978-263-7598 or toll free at 1-888-JOY-SAIL. See them in action on the Chicago river: Click Here
And we also have an Explanatory Video: Click Here.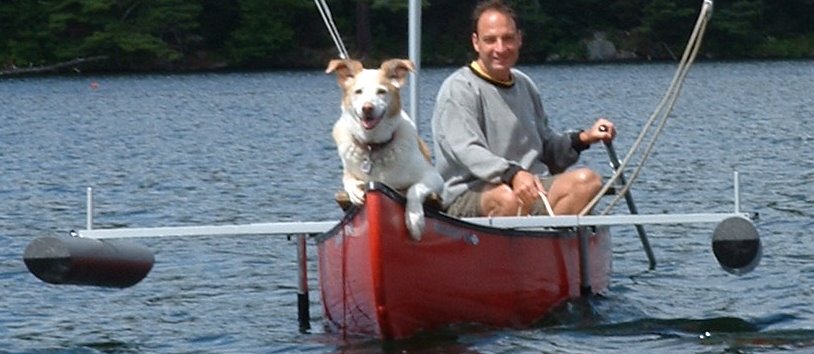 These aren't just for sailing but they ARE great for sailing. Above, Rob with ethafoam stabilizers. Below, Jim with hydrodynamic stabilizers. YES these stabilizers use the lever lock system for height adjustment! YES the hydrodynamic floats come in choice of colors! YES we can fit any canoe width or brand. YES we give free domestic shipping on stabilizers (lower 48). YES we ship worldwide. There is a comment space when you check out. Specify size, color, any special requirement there. Or email us or call us.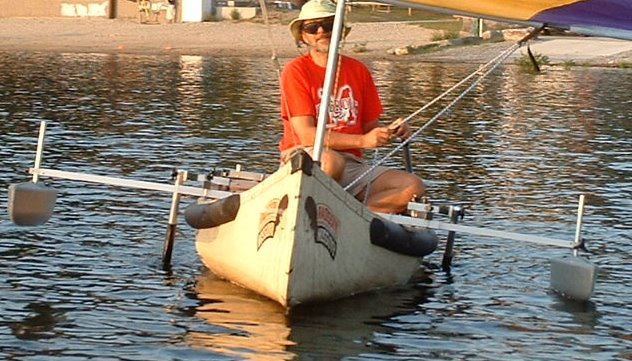 Sailing, fishing or just messing around, you want to stay rightside up. But you have limited time, space and patience, so your canoe stabilizer has to be simple, strong, versatile, convenient and highly effective. Our amas (floats) slide in, out, up and down and lock where you want them. Canoe stabilizer clamps onto any canoe in just a few minutes. Same clamp-on crossbar accepts wheels, sail mast, leeboards, bench, rowing outriggers -- that's versatility. These are the key attributes of our canoe stabilizer: Adjustability, installability, portability, durability, versatility, stay-right-side-up-ability!
Explanatory Video: Click Here.
Customer Review: Click Here "We had 2 adult men standing and casting full strength" MIT buys them to stabilize unmanned kayak drone with expensive payload: Click Here
Yes we have colors (specify in comments section of checkout) and all come with new lever lock system on floats.
Two styles, both with FREE SHIPPING* :
Canoe stabilizer with Ethafoam floats (top picture above) DISCONTINUED Free shipping on stabilizers
Canoe stabilizer with streamlined Hydrodynamic floats (2nd picture above and green canoe picture below) $400 Buy Now
Handy Accessories: Bench Seat - 36" x 8" attaches to stabilizer crossbar. $59 Buy Now
Carry bag for stabilizer: $29 Buy Now
*Free shipping is for lower 48 states. For shipping quotes to other locations email Jim@SailboatsToGo.com
Mount canoe stabilizer at bow, middle, stern or in between. Gunwale clamps slide together or apart to adapt to canoe width.

Outriggers with Hydrodynamic float. Colors: Red, Yellow, Gray or Mango (specify in comments section of checkout page). Lever lock easy height adjustment.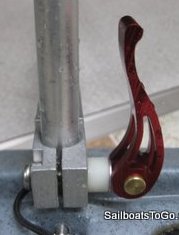 Choose Your Size: The telescoping float arms slide in and out of fixed center section ("crossbar"). Crossbar has two square tubes running through it to receive the float arms. The crossbar is the part that clamps across your canoe. Choose a crossbar length long enough to span your canoe, or longer. For canoes with outside gunwale lips (Coleman, Pelican, Lincoln) oversize by at least 4 inches to allow clamps to go on outside. Standard crossbar lengths are 30", 36", 40" and 45" or for $10 extra, we'll do a custom length (pay the $10 click here). Email Jim@SailboatsToGo.com after ordering to specify length. Or you can put this information in the "comments" section of the checkout page where you enter your address etc. You can even take care of international shipping there. If you have a Mad River Adventure or Passage, please tell us so we can substitute special clamps (no extra charge).
Email Jim@SailboatsToGo.com for questions, or call Tel: 978 263 7598 or toll free at 1-888-JOY-SAIL. Rush orders, special requests, questions - I'm here to help!
| | |
| --- | --- |
| | |
| Standing in a canoe is inherently dangerous, but a lot less dangerous with our stabilizer. | For sailing and motoring, the Hydrodynamic style of float is best. It's more streamlined, stronger and has 15% more bouyancy. |
Wide Stance: The telescoping float arms extend 22" out from the crossbar on each side when fully extended. So, if you get a 40" crossbar, total span is 7 feet (40" 22" 22" = 84" = 7'). Wide span multiplies bouyancey of the floats through leverage. But you don't have to fully extend. Float arms also lock at 15" extension point (total 70" with 40" crossbar).
Dimensions, materials, weight: The Ethafoam floats are 6 inches in diameter and 26" long. They are solid, closed-cell resilient foam that won't absorb water, crack, split or shatter even in cold weather. The Hydrodynamic floats are 42" long x 6" max. width & depth. They are hollow, rigid, high-impact plastic. Weight for the whole system is about 9 lbs. for the Ethafoam stabilizer; or 16 lbs for the Hydrodynamic stabilizer. Broken down, either style fits in a bag we sell that measures just 48" x 7" x 9", and that includes the crossbar, the arms & both floats, all in that one little bag. Metal parts are anodized aluminum and stainless steel. Nothing to rust. The displacement of each hydrodynamic float is 838 cubic inches (30.27 pounds of water). The benefit of this buoyancy is multiplied into a much greater effect on stability through the magic of leverage, since the pontoons are positioned over 6 feet apart.
Popular & Proven: Both styles have enjoyed great market success and customer satisfaction over years. These are the identical canoe outriggers sold by Cabela's, Spring Creek (Canoe Gear), Castle Craft, etc.
"Jim,
I received the outriggers and they work great—truly sweet!

"
-- Thom E. June 2010 (bought ethafoam type)
Why buy from SailboatsToGo? Emails and phone calls answered promptly by me, Jim Luckett, owner. Most informative web page. Informative Video. Satisfaction guaranteed or return for refund. Competitive prices. No bull. Example: If you're not motoring or sailing, save $99 and get the Ethafoam stabilizer. It's a quality product, lighter, more compact and it's all you need for paddling.
"Your Stabilizer is a great product. It has surpassed my expectations. It saved us from tipping during sudden bad weather while crossing a lake. Thanks." -- Darren D. (Canada)
Adjustability
Floats retract to sides of canoe. True for both types. Ethafoam is in picture above. This canoe also has "sponsons" -- flotation strips bolted on for additional safety, sold here.
When float is fully extended, spring button pops up thru hole in crossbar; just push it down to retract float arm. Hole also provided for intermediate position lock.
Adjust float up and it will hover over water ready to catch you if you start tip. This is Ethafoam float.
Adjust float down to maximize stabilizing action. Top of tube to bottom of float is about 12" (Ethafoam float) or 16" (Hydrodynamic). Extension for tube is available (see below). New lever lock system replaces knob-actuated clamp shown in this photo.

(At Left) Gunwale clamps are U-bolts that fit over the crossbar, so they can slide in or out to align with edges of the canoe. This means you can put a long crossbar on a narrow canoe and get more stability. It also means you can mount the stabilizer in the middle of the canoe where it's wide, or at bow or stern where it's narrow. Adjustability = flexibility in how you use it.

Clamp reaches under lip (overhang) of gunwale to clamp the crossbar down. We call this canoe and inside-lip canoe because the lip is on the inside. For outside lip, clamp is turned around and mounted outside the canoe, and crossbar must overhang edges of boat at least 2" on each side (so add 4" to boat width to find minimum crossbar length).
Informative Video: Click Here. (in case you missed the link at the top of the page)
More pictures, more details: Click Here Hydrodynamic floats usually available in your choice of 4 colors (specify in comment space):
Versatility - The stabilizer crossbar is actually the heart of a whole system of canoe accessories. It's on your canoe, it's strong, it's got 2 tubes in it that things can slide into and holes to engage spring buttons, so why not put it to work in more ways? Like wheels for land transport, leeboards to keep you going straight even in crosswinds, a downwind "spirit sail", a full upwind sail rig that make your canoe a fully operational sailboat, rowing attachment, motor mount, seat that goes on top, etc. Links:
Wheels More Info
Fat 16" tires $134 Buy Now
Leeboards snap into crossbar -- use with or without stabilizers at same time. $62 Buy Now

Downwind spirit sail clamps to crossbar

Make your canoe a real sailboat. Goes great on all tacks. Most fun on the water! More Info
Row your canoe - faster, great exercise. Sliding seat or fixed. More Info
Bench Seat - 36" x 8 x 5/8" attaches to crossbar. $59 Buy Now ("High Seat SR")
Oversized heavy duty bag with padded strap. Takes stabilizer & more. $35 Buy Now

Extension tubes, for high-sided canoes.

$12/pair Buy Now

Cane floor seat - use in canoe and on shore - great back support. Lower center of gravity stabilizes canoe. Beautiful ash frame. Folds flat, just 7 lbs. $79 Buy Now
Might Mite cart for canoe or kayak. 200-lb capacity, yet it is light and small enough to take with you in the boat. Will fit in most kayak holds. $89 Buy Now
Bilge pump - removes 8 gallons/minute from your boat. $25 Buy Now
Super Strong Canoe Motor Mount - 3 HP max. or 35 lbs. weight. Also for all electrics. 5 lbs Clamps slide to adjust to canoe width, up to 20 inches apart, Extension available. $69 Buy Now More info and more options for canoe motor mounts Click Here
Motor mount attachment snaps into the end of the stabilizer crossbar. The telescoping arm of the stabilizer float passes right through it. Order --->

We also have conventional canoe motor mounts. click here

Snap in motor mount, $69. Buy Now

Great with bench seat above.

Back support! Internal fiberglass rods. 15 inches high. The best of this type of product. Add to your backless canoe seat. Secures with straps. $45

Canoe rack set. Bolt to wall, indoors or out. Consists of 2 Big "L" brackets, one for supporting each end of boat -- 12" vertical arm bolts to the wall, 36" horizontal arm supports 1 canoe as shown or 2 kayaks on edge (we sell stops that clamp on to keep kayak on edge from sliding - item 5115 on parts page) up to 110 lbs. When not in use, horizontal arm folds up. Works on canoes wider than 36" because even a wide canoe is narrow at the ends. Won't rust.

Buy Now $59
Portability
Stabilizer carrying bag: Nylon bag with full-length zipper and shopping-bag style carrying handles made of webbing that goes all the way under and around twice. Fits either style stabilizer.

Free shipping if bought with stabilizer.*

$29 Buy Now

Or, oversize bag, see above.

*$7 shipping added later if bought alone.

Vertical tube in Hydrodynamic float is removeable for compact storage. Just pull pin.
Groove accepts tube flat for storage. Tubes in Ethafoam floats are not removeable like this.
Durability
Guaranteed by manufacturer (Spring Creek) for 5 years. Metal parts are anodized aluminum, stainless steel. Strong and won't rust.
Stay right-side-up-ability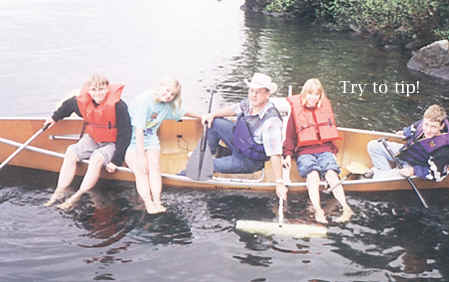 Bouyant pontoons spread wide apart prevent capsizing of canoe.
1022

Pair of hyrdodynamic stabilizer floats only


This includes just the pontoons (floats) and the vertical float tubes for the hyrdrodynamic canoe stabilizer system. This would be for a do-it-yourself project or for retrofitting a foam stabilizer with the hydrodynamic floats. Note that if you have a really old stabilizer you are upgrading, from before hydrodynamic floats were offered, you will need the float arms too, because the clamping mechanism at the ends of the float arms was upgraded to clamp the vertical float tubes more tightly. In that case order item 1006 (float and arms) instead.

Order Page for this item
| | |
| --- | --- |
| | Need Extreme Stabilization? Get Our 4-Float Stabilizers or our giant inflatable stabilizers (More info). |
More Canoe, Kayak Accessories (links)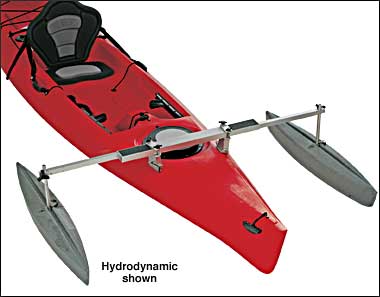 Kayak Stabilizer More Info Same basic system, but with legs attached to deck brackets instead of gunwale clamps. If you have a canoe and a kayak, one canoe stabilizer system plus the kayak adaptor (legs and deck brackets) will work for both of them.
Canoe stabilizer with Ethafoam floats DISCONTINUED
Canoe stabilizer with streamlined Hydrodynamic floats $400 Buy Now
If you are outside continental US, use the links above to put the product with regular shipping into your cart and then also add one of these items to your cart for the extra shipping cost:
*Domestic Shipping excludes Hawaii and Alaska
8915

Shipment of Hydrodynamic stabilizer to Europe, Japan, Australia, etc. (added shipping cost)




Extra shipping cost to other countries, except Canada.

see note at next item regarding 45" size.
0.00

Shipping**
100.00
Add to Cart
Check Out
8916

Shipping Ethafoam stabilizer to Europe, Japan, Australia Etc.




Extra shipping cost to other countries, except Canada, for Ethafoam type stabilizer. Shipping the 45" size to Australia, Eastern Europe and most less-developed countries involves additional cost. Email Jim@sailboatstogo.com for details if ordering the 45-inch size from those countries.

0.00

Shipping**
70.00
Add to Cart
Check Out
8917

Additional Shipping for stabilizer to Hawaii, Alaska, Canada




Additional shipping cost to these areas for either type of stabilizer.

Total shipping will be regular shipping amount PLUS this upcharge.
0.00

Shipping**
50.00
Add to Cart
Check Out