Snark Sunflower Sail Size Identifier
How to tell the 45 SF and 55 SF sails apart:
Compare height (measured along front edge) to width (measured along bottom edge) of your Sunflower sail. If equal, you have a 45. If a lot taller than width, you have a 55. Do not measure along back edge. (see notes on photo below)
Or if you do not have the old sail, compare the two spars (poles) that go into the sail sleeves. On the Super Snark and Sea Snark both poles are 10 feet (120 inches). That's what the 45 SF sail needs. On the Sunflower, one is 10 feet and the other is 10 feet plus a 28-inch extension, making it 12 feet 4 inches.
If poles are equal length to each other, get the 45. If one pole is about 28 inches longer than the other, get the 55.
Note: We are not talking about the third pole, that is fatter than the other two. That's the mast. All the above pertains just to Super Snarks, Sea Snarks, Whirlwinds and Sunflowers. There have been many, many Snark models over the decades that take neither of these sail sizes. We sell sails for only a few of the others: Sea Witch, Sea Skimmer, Sun Chaser, Mayflower.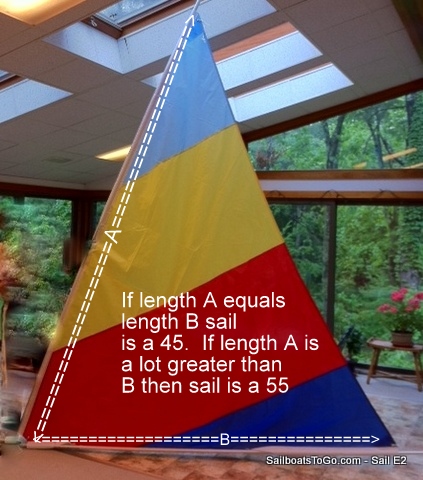 If A=B => 45 SF sail
If A>B => 55 SF sail
Back to sail purchasing page: Click Here