White Dacron Sails
SailboatsToGo offers affordably priced white Dacron sails, as an upgrade to the standard nylon sails that we also offer. Dacron holds its shape better and is the sail material of choice on most bigger boats.
These sails fit Super Snarks, Sea Snarks, Snark Sunflowers and our own sail kits for canoes, kayaks and dinghies, including inflatables.
Workmanship and materials on these sails are better than OEM Snark sails. See closeup photos below.
We offer the 45 SF size for Super Snarks, Sea Snarks, very old Sunflowers and our base model sail kits. We offer 55 SF for Snark Sunflowers, and our sail kits that have been upgraded to the larger size. (If you have a Sunflower and are wondering which size you need, just compare the lengths of the two poles that the sail mounts on. If they are equal in length, you need the 45 and if one is much longer than the other, you need the 55).
If you are ordering a Snark, Sunflower or SailboatsToGo sail kit today and want to substitute the White Dacron sail for the standard nylon sail, there is a small upgrade fee you can add to your shopping cart to accomplish the substitution on either sail size.
Click Here for Upgrade Info (only if you are buying a sailboat or sail kit in same order). Click a link below to shop for sail only:
Buying info on 45 SF White Dacron Sail Buying info on 55 SF White Dacron Sail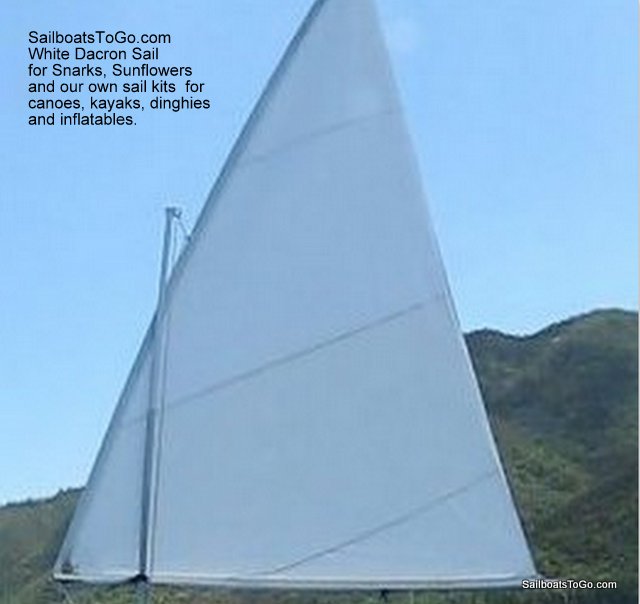 Closeup photos show the great workmanship.

Here we see the stitching around each sail sleeve cutout.

Reinforcement inside the cutout, and again, you can see the perimeter stitching and see how the sleeve is made out of a differing, heavy material.

The tack.
Doubled over hem and locked stitching