Waterproof Cell Phone Case $25
Floats!
Use Mobile Phone Without Opening Case So It Stays Safe From Water Damage!
Also Works as Waterproof GPS Case or Small Camera Case.
Use GPS Without Opening Case.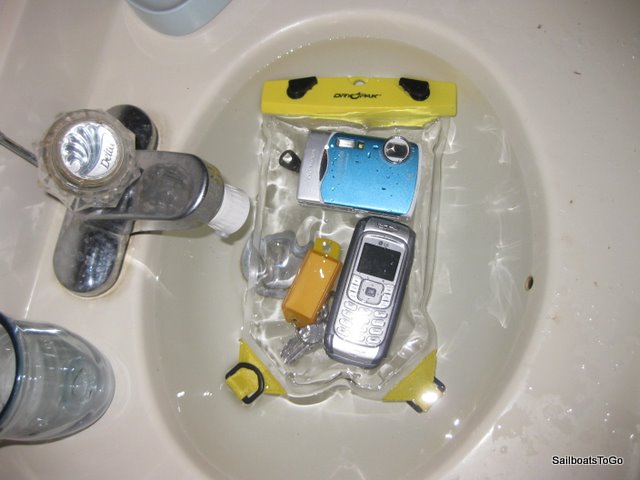 Picture demonstrates case floating in sink with a camera, phone and keys inside. We just dropped these in the bag and closed it, doing nothing special to make sure air was trapped around them. Yet it all floats beautifully. Camera, phone, keys, sink, water not included.
This waterproof cell phone case is a very important safety and convenience accessory for boaters, lifeguards and others around water.

If you have a boating emergency, calling for help could save your life. But can you do that if your phone is not protected from water damage and kept from sinking?

Don't think that a sandwich baggie will work: Your phone or GPS will still get wet, and will sink if dropped in the water. This waerproof bag is cheap insurance that your phone or GPS will be available and functioning when you need it.

Car keys should also go in the bag. If you have an electronic fob, that needs to be protected from water. Even if you don't, putting your keys in the bag will protect them from getting lost in the water.
How does it close and open and still keep water & sand out? Closure is sealed by giving a quarter turn to the 2 levers on top edge. These are designed to clamp the seal tightly -- and it works!
How does it float? The bag itself floats when empty. When you put heavy objects inside, enough air is automatically trapped around the objects so it still floats. You can augment the floating ability by putting in a light bulky object like a ping-pong ball or dry sponge -- even a balled-up handkerchief. But I've never found it necessary. Test it yourself! (Test first with non-valuable objects).
How can you work the phone or GPS without opening the case? The front of the case is clear and flexible, so you can see the screen, see the buttons and punch the buttons. The front is also thin and flexible enough that you can talk and listen right through it.
.
Price: $25 Shipping: $5
Click Here> Buy Now
If you just dropped in looking for a waterproof case, we invite you to also look around and see our line of inflatable sailboats, canoe sail rigs, kayak sail rigs, Zodiac Boat sail rigs, inflatable boats and accessories. Start by clicking the red "Home" link below: