The Tiller Turner
A convenient accessory for your SailboatsToGo center rudder.
Order at bottom of page.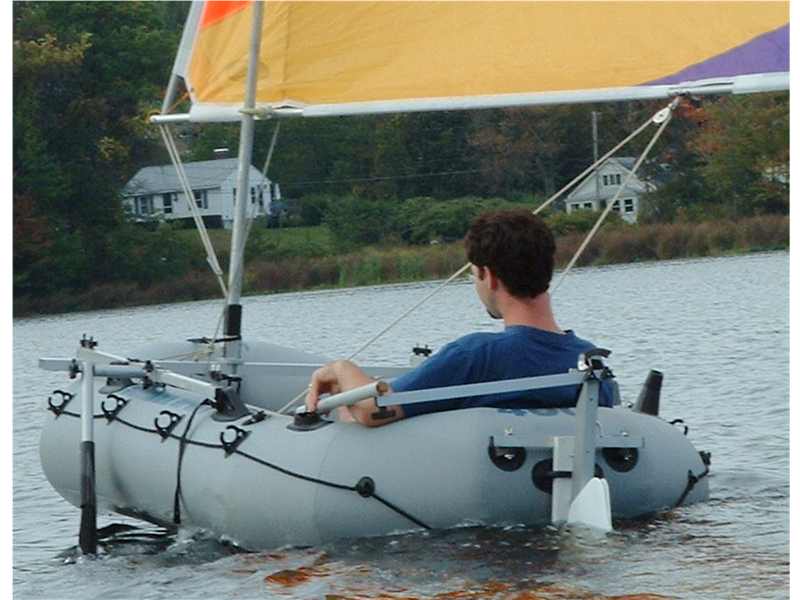 The "tiller" is the handle on a rudder. Ordinarily, the tiller attaches directly to the top of the rudder, and is in the middle of the boat, sticking straight forward. You steer by moving the handle from side to side. This works fine if sit to one side, opposite the sail. But what if you want to sit in the middle of the boat and look straight ahead? What if you don't like having to shift your sitting position every time the sail goes to the opposite side? You need... the Tiller Turner! More pictures and videos Click Here.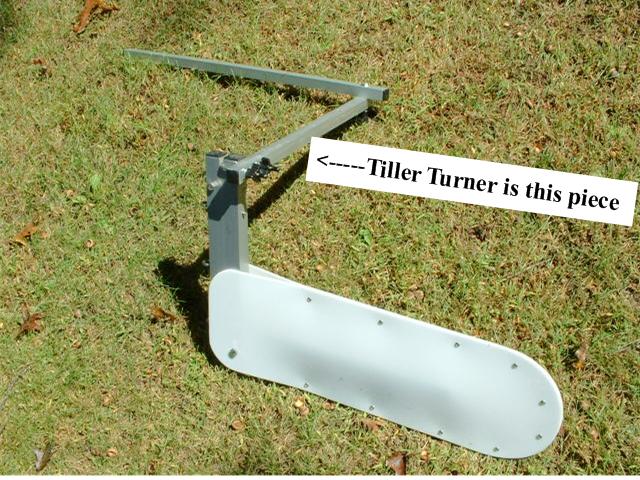 The Tiller Turner is a right-angle link you attach between your tiller and your rudder. Now you steer by moving the tiller forward and back instead of side to side, sitting centered in the middle of your boat with your tiller hand resting comfortably on one of the side tubes of your inflatable.
If you already know how to sail, you will quickly get used to push-pull steering, though it will sure seem funny at first! If you're just learning to sail, it's probably best not to use your Tiller Turner until you have mastered the basics of sailing with the conventional tiller arrangement.
In the Luckett family (that's son Jeffrey in the top picture) we've grown to love it. Push-pull steering has a very nimble feel and it's great not having to move from one side to the other when you change tacks and not having a tiller cluttering up the center of the cockpit.
This is only for the optional center rudder (item 2043 or 2044) or clamp-on rudder (item 7007) . Most of our sail kits and sailboats come with the side steering oar system standard, so the steering control is already at your side so you can sit centered.
Buy Now Tiller Turner (rudder not included)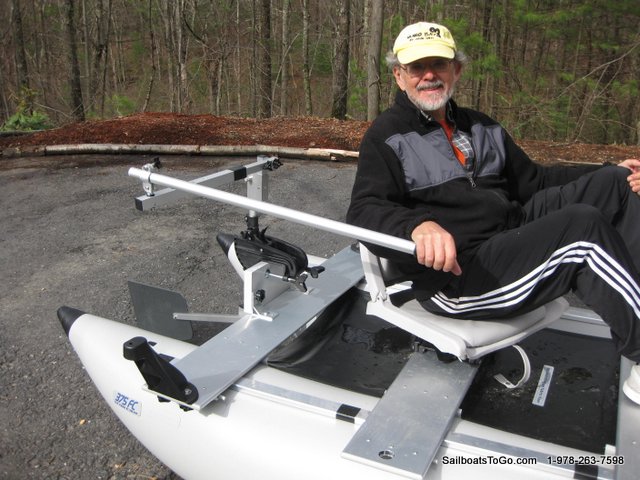 Tiller Turner with Clamp-On Rudder on the Fold Cat