StraitEdge2 Specifications & Features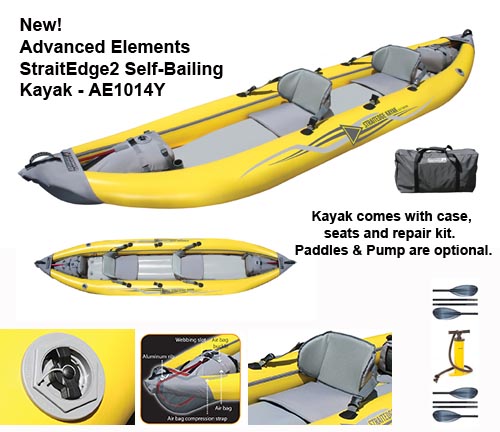 Sail kit $599 additional. See sail kit details: Click Here. Make it a complete inflatable sailboat. Video
The 2008 StraitEdge2 Self-Bailing Kayak from Advanced Elements provides the performance and handling capability of a hard-shell kayak and the convenience and portability of an inflatable kayak - it's so sporty and unique, you'll have complete strangers asking questions about it!
The StraitEdge2 is the first tandem sit-on-top inflatable kayak to improve tracking in open water conditions by incorporating an aluminum rib, which is attached to cone-shaped air bags that are forced into the bow and stern. The hull design is similar to a hardshell sit-on-top kayak, yet it can be pumped up or packed away in minutes. The bow and stern have additional built-in rigid forms that help cut through the waves and keep you on course, just like a hard shell. Self-bailing ports on the underside allow water to pass through the kayak when in white water or heavy wave conditions. Plug caps can be inserted into the ports to keep the water out during open and calm water conditions. Three seating positions allow for the kayak to be set up in solo or tandem mode.
If you love the water, but like to travel light, this sleek compact inflatable kayak will add a new dimension to your outdoor adventures. From lakes, and rivers, to bays and estuaries, it is a delight to get on the water quickly; keep it deflated in the trunk of your car and the next time you're driving along a river, lake or bay, you can be fishing or paddling in just minutes!
The kayak's durable heavy-duty PVC/Tarpaulin and electronically welded seams can take bumps, scrapes and rough water. Perfect for camping, vacations, recreational vehicles or those that just don't want the hassle of roof racks, as it fits easily into the trunk of your car!
Features include:
Built-in Aluminum ribs define the bow and stern, and improve tracking
Self-bailing ports with plugs
Hefty duffle carrying bag, maintenance kit, instructions.
Two adjustable padded back supports/seats
Rod holders
Six chambers utilizing advanced inflation valves
Molded low-profile rubber handles
Durable double-coated PVC-coated nylon w/tarpaulin fabric; 2 layers of material
Electronically welded seams
Bungee deck lacing to hold extra gear on the air bags
Quick access mesh accessory pocket
Dimensions: Length 13 ft, width 35 inches
Weight: 47 lbs, max load 500 lbs
Easy storage, portable, packs into convenient duffle bag with a folded size of 39.5x18x12.75 inches
Durable, lightweight and compact - inflates in minutes!
Designed to be used in flat water to salt water and rivers class I-III.
New w/manufacturer's warranty
Optional thigh straps available

3029

Advanced Elements StraitEdge2 Inflatable Sit-on-top Kayak




Over 13 feet long and about 3 feet wide, the StraitEdge2 kayak is extremely rugged and rigid. See 3030 for package with pump and paddles. See 3027 on kayak rig page for package with sail kit

649.00

Shipping**
35.00
Add to Cart
Check Out
3030

StraitEdge2 kayak from Advanced Elements with pump and paddles




Like 3029, but with addition of hand pump and 2 breakdown paddles. See item 3028 for sail kit on kayak rig page

769.00

Shipping**
40.00
Add to Cart
Check Out