Snark Sunflower Sailboat Pictures
The Sunflower 3.3 has been on the market for decades. Here are pictures taken in locations all over the country, of Sunflowers of many different vintages, with various sail graphics.
We're always looking for more -- send us your Sunflower pictures or video (Jim@sailboatsToGo.com)!
Click here to go to Snark Sunflower 3.3 shopping page.
Sails & other parts for Sea Snark, Super Snark & Sunflower Sailboats: click here.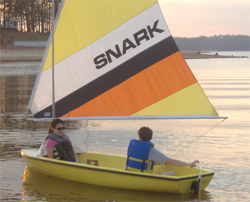 Comfortable for 2 people.

Click here to go to Snark Sunflower 3.3 shopping page.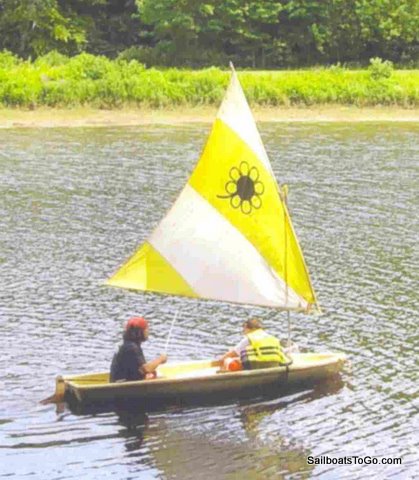 A nice cruise on a lazy summer day.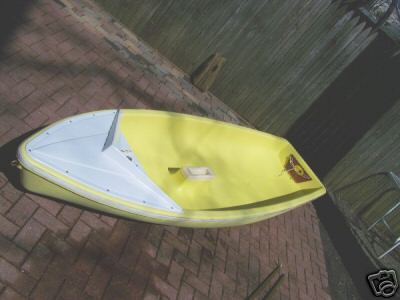 The splash deck is standard.

Click here to go to Snark Sunflower 3.3 shopping page.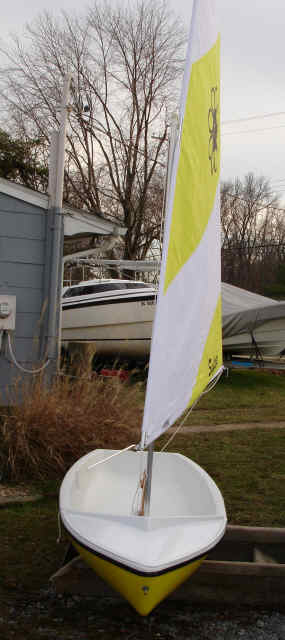 Sleek lines help the Sunflower move along well even in light winds.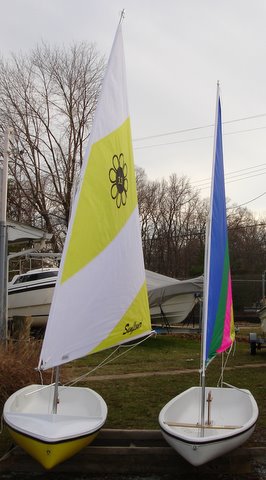 Side-by-side comparison of Sunflower (left) to Super Snark (right). Sunflower is a few inches wider, with sides a few inches higher, and has 23% more sail area (sail 2 feet taller but same boom length).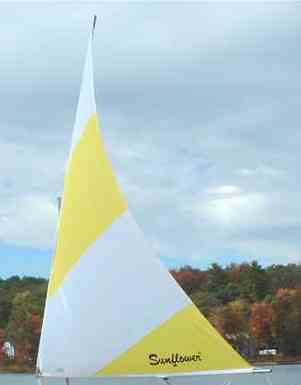 Current sail design has dropped the flower drawing -- too 1960s, I guess.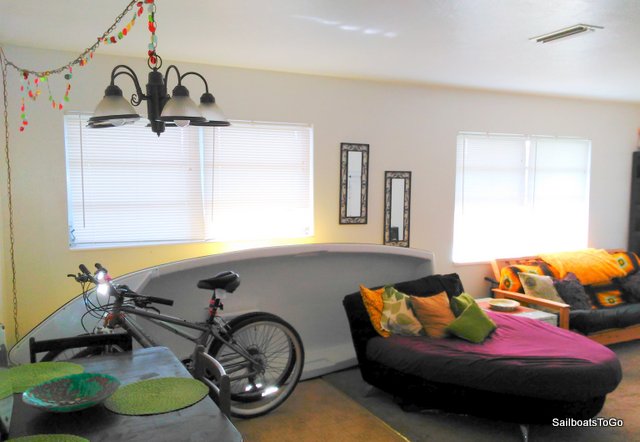 One answer to where to store your boat!
Another nice shot (copyrighted, so we can't show it, but click here to see)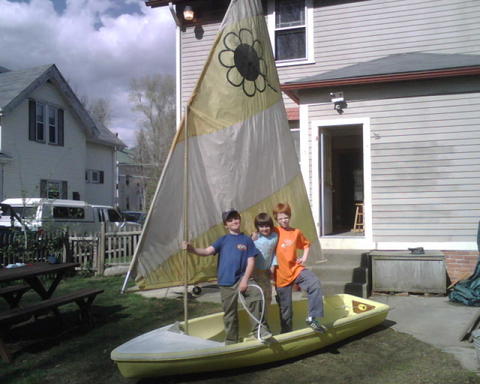 Pirates!

Click here to go to Snark Sunflower 3.3 shopping page.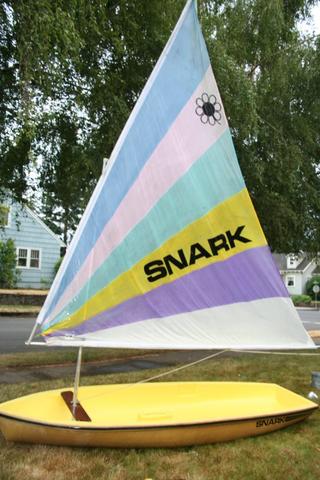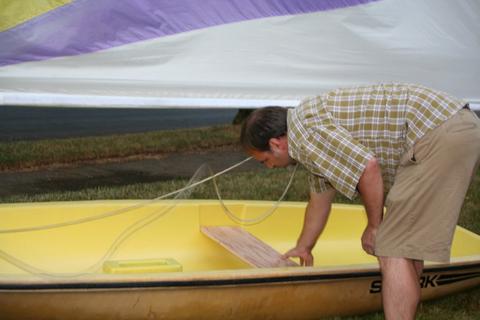 There have been some great sail graphics for the Sunflower 3.3 over the years. Picture on right shows the optional center seat location.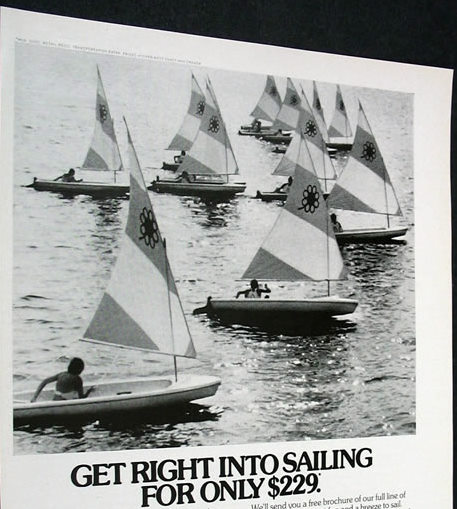 Old ad -- back when cars were $2500, Sunflower sailboats were $229, as you can see.
I guess that's a lower inflation rate for the Sunflowers!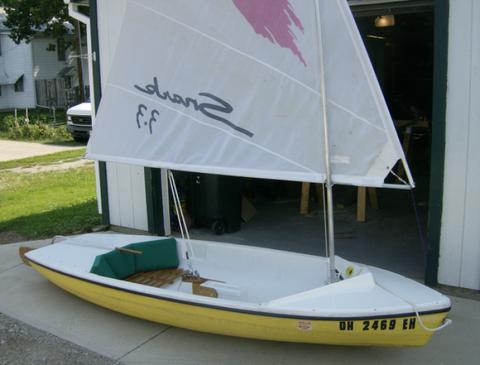 Some owners put a lot of love into modifications. This one has a poop deck!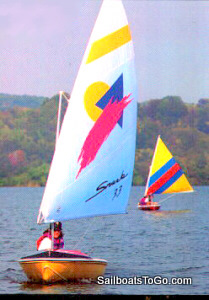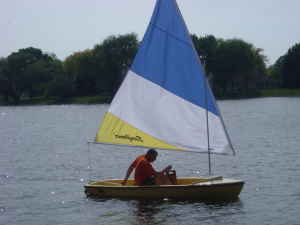 Sunflower in the lead, Super Snark behind (Left) Sunflower with the blue/white/yellow sail.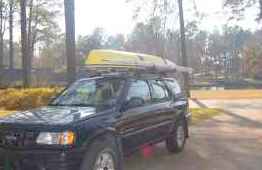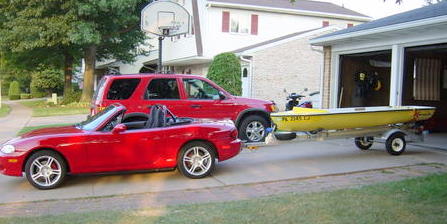 Easily cartopped...unless you drive a little convertible. Trailex trailer click here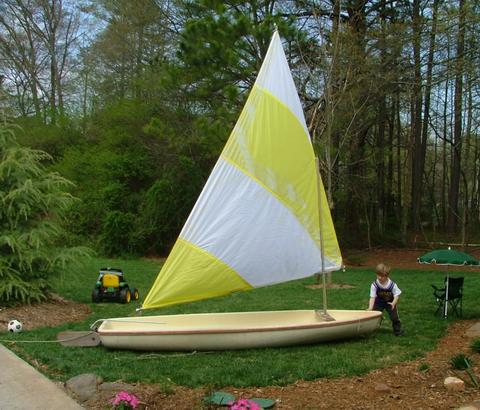 If you are going to sew your own sail, the most important thing is to make the front and bottom edges smoothly curved outward 2 or 3 inches at the midpoint. This gives the sail it's "camber" (bagginess) which is the necessary airfoil shape for good upwind performance. The rear edge should be concave (hollow) in a smooth curve that bows inward about 3 inches at the midpoint. This prevents fluttering at the rear edge (the leech) that would disrupt smooth airflow over the sail and reduce power. It looks like this sail has the necessary camber, but the leech looks pretty straight. Compare to some of the other pictures that give a good view of the factory sail.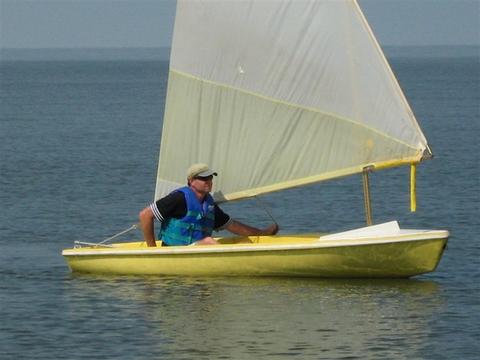 Don't leave you sail out in the sun! UV radiation will fade it and weaken it. Store inside when not in use.
Click here to go to Snark Sunflower 3.3 shopping page.
Video: This customer ordered a custom dacron sail from us with her Sunflower 3.3 and specified all panels of the sail should be tan bark (deep dark red). Click arrow to start video: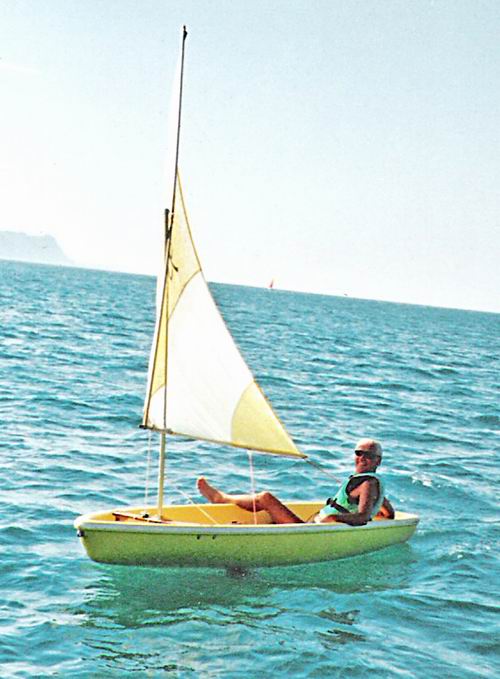 An early Sunflower with 45 SF sail and no splash deck. This one is still in use in the blue waters of the Mediterranean Sea, off Italy, and the owner writes:
"Good evening Jim.
I am very fond of Sunflower. I have one of it since 1976 (see attached photo).
I would like to have a new sunflower (the version with the little deck and with the sail of 55 s/f).
I live in Italy."
-- Mario B. (message received August 2010).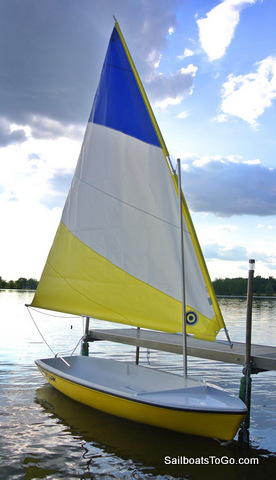 Sunflower we sold in 2012 with upgrade to a Neil Pryde Dacron sail ($70 extra). We have several color schemes for substitution when you order a boat from SailboatsToGo.
Click here to go to Snark Sunflower 3.3 shopping page.
Pictures of the Super Snark sailboat Click Here .