Rowing Rig Reviews
We get many comments on our rowing rigs, here's a sampling
Simplicity that really really works
"Hi Jim,
I purchased the the Rowing Package with foam stabilizer floats for my canoe on April 2, 2010. The rowing package is sweet. It is at least twice as fast as paddling with less effort and I love the control that comes with it. You can turn on a dime. I am equally impressed with the foam floats. I have a ten year old daughter who accompanies me when fishing a number of small lakes near our hometown of Salisbury Ctr. , New York . My daughter went from someone who was always concerned of overturning to standing up in the canoe on occasion for a position break. She is no longer worried about tipping , but instead enjoying the moment and catching a few fish. When I think about our past outings , I just have peace of mind knowing that she is safe , which in turn gives me a more pleasurable day.
All pieces and parts are well constructed and the craftsmanship is second to none. Once you determine where you want to mount it to the canoe , you are done in fifteen minutes tops. I refer to your product in conversation to friends as " Simplicity that really, really works". Great job!!!
Thank You,
John Daley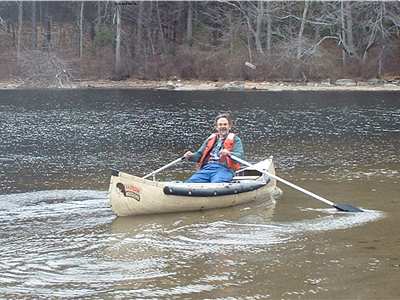 Jim rowing
Rough water
David F. of Ontario told us "I've been on the lakes now for a couple of weeks with the canoe rowing kit and I'm loving it. Glad I got the stabilizer floats for some of this rough water I've encountered. There's an old scow here I also row and I tell you the canoe is almost effortless, especially by comparison. Good design! "
Voicemail from a happy buyer of the rowing rig and stabilizer floats for canoe
"Jim, how are you doing? This is Anthony ...from New York State. I recently ordered the rowing kit to put on my canoe. I just can't tell you enough how thankful I am. This thing is amazing. I had it out on the water for 2 days out is western New York when I visited Buffalo and I fished my brains out. The stabilizer kit is amazing. We had 2 adult men in the canoe casting at full strength, both standing in it. Just what an absolute pleasure. Just so happy with it and also so glad to do business with you guys. It's so great to spend money on something that you actually get more than what you paid for. Thanks a lot. Hope you and your family are well. Take care."
--Anthony from Brooklyn, New York
Unsolicited voicemail left on our answering machine,
Skeptical at first
'We haven't stopped raving... '
Just a quick note to say how pleased I am with the stabilizers I recently purchased. Though skeptical at first, my son, daughter, and I quickly changed our opinions after a short time on the water during our recent week-long trip to the BWCAW in northern Minnesota. Traveling and fishing in high wind conditions are tough in any situation, especially in a canoe, but we were able to do this safely and without incident. My son was able to move forward in the canoe to help my grandson land his big fish, as I was able to do for my daughter when she caught her biggest fish ever - an 8 lb. walleye. Would never had even considered doing that before! Although we still exercised normal safety procedures when in our canoes, we were confident that we could safely stand to stretch or help each other during long fishing outings - sometimes upwards of 8 hours. We haven't stopped raving about them since we got back!
Thank you for your quick response to handling my order. I hope to send many people to your website, and look forward to doing more business with you in the future.
Gary B.
God's Gift
"I got those hydrodynamic canoe stabilizers and I want to tell you they are God's gift. I've got a Mad River Adventure and without the stabilizers, my son would just turn around and we'd flip. Now, we're standing and fly fishing for 3 hours at a time and it's just as stable as it could be. We're using a 55-lb thrust trolling motor, which can put that canoe up on plane, and we've got those floats adjusted so they're just skimming along, and it's great. We're using it on the Potomac, and these waters are treacherous. Now that I have the stabilizer, I won't leave home without it."
Paul Rose
Bucking a strong wind
"Your rowing rig is turning out great... The speed is a thrill, and your rig is especially effective when bucking a strong wind." Wayne Poole,
Worth Their Weight In Gold
"Jim - I finally got to sail this weekend and boy was it fun! Everything worked as it should and performed well just wish for a little more wind. I will tell you that the stabilizers are worth their weight in gold! I have used them with my trolling motor and they make your canoe really stabile with no worries of tipping over. Three of us went down the Waccamaw river in SC over a 25 five mile trip with fishing and camping gear in a Discovery 169 and it would not have been possible without the outriggers.
Thanks for turning my forgotten canoe into the family fishing and sail boat!'
John Royals
Awesome
"Hi Jim
Greeting from the mountains. The plastic floaties you sent me were awesome. They work very well and certainly make the kayaks VERY stable. Can you please give me a price for 12 more and include freight in the price.
Thanks Jim."
Charlie Hobbs, New Zealand, The Old Mountaineers' Cafe Bar & Restaurant (and ocean kayak expedition guide)
Comfortable with the Gators
"Jim,
Just got back from the everglades and we had a great time due to your canoe stabilizer. It was really nice to be able to have a small craft that can access small backcountry water and no motor zones, but still be able to stand, cast, and fight tarpon, snook , and redfish. We fished water with some good size gators in it and I just would not have felt comfortable without the stabilizer. Thanks for everything and will definetley tell everyone I know what a great product this is."
Mark Jero
Care Free with the 2 Kiddos
Hi, Jim
"I purchased your hydro-outriggers for canoe and a high seat. The outriggers have been just what I needed for motoring my canoe. I motor up and down river with 2 of my kiddos ~ care free! Thanks!"
Scot
Hauls Ass Upstream
"Got my canoe rowing attachment yesterday and it is Magnificent. It went together in about 10 minutes, and well, I got home when the moon came up. I stayed on the river until sundown. It hauls ass up river going UP STREAM against the current in the river. The construction is magnificent. Thanks for coming up with something so well constructed.* Engineering on it is perfect. It is Everything I hoped for and then some."
Adam Langstone
Keeps Fat Guys Dry
Got the product. We love it. Helped these two old fat guys from falling in the river. Now all you have to do is put some markings in inches on the aluminium cross piece so we know how long the fish were that we caught.
Great product, thank you very much.
Al Shimkus,Sr.
Glad He Got the Stabilizer Floats
"It's a very nice [canoe sail] rig. I'm very impressed. I'm glad a got the stabilizer floats that you recommended. It behaves extremely well. What a nice rig. It occurred to me -- we like to travel -- I can put this in a bag and take it with us and rent a canoe. I don't have to drag my canoe around to be able to sail when we're on a trip. The outriggers make it very very stable. I also have an electric motor and the outrigger floats make it so nice. Just a very, very pleasant experience now even to just cruise on the motor."
Tom Grant
A Whole New World
"What that stabilizer does not my canoe is just absolutely wonderful. I can stand up and cast a net -- I'm not just talking about rod casting -- I can actually stand and throw my net. It's like a whole new world opened up with that stabilizer on my canoe."
Joseph Vidrine
Safe for the Dog
"I LOVE the stabilizer. It has changed the way I can use my canoe. I am so happy to feel safer and to be able to finally take my dog with me. Thanks."
Dave Weissgold
Impressed
"Hi, Jim-
I finally got around to putting the kayak stabilizer system I purchased from you on my wife's kayak. It's really a wonderfully designed and built system. I'm very impressed by the quality and also how easy it is to attach and detach. The rig is –very- stable ...Thanks for your help and providing such a great product! Regards –"
Jon Levin
GREAT!!!!!!!
"jim:
i have a set of your ethafoam floats ...purchased some time ago from you - and they work GREAT!!!!!!!!!!!... "
Bill Pinker
Speedy Service
"Just wanted to update you that I received my order yesterday, 06/06/08. Thank you for the speedy processing and delivery. I am impressed with your service and the quality of the stabilizers."
Eric Bridges
Twin Sons Standing
"Hi Jim,
Ordered late Thursday the 8th, received outriggers on Wed. the 14th and had a chance to use them Sat. the 17th.
WOW.....10-20 mph wind, rainy, very choppy. My twin 16 year old sons are anchored, face in the wind , standing up, fishing. Very cool my friend. Thanks for all you do."
Keith Ten Eyck
Superb
"Hi Jim, Ronnie from Northern Ireland here... I tested the [stabilizer] system on my canoe on a two hour trip on open water and am really well pleased, a superb product with a superb service and if anyone in Northern Ireland wants to see them in action just give me a call.
Best Regards"
Ronnie Campbell
Now I Can Drink More
"Well, I bought your "Hydrodynamic" stabilizers about 2 weeks ago and put them to the test today. They did great! I thought my electric motor would give me problems, but stabilizers kept the canoe level. I was even able to fish standing up. I didn't even like to reach in the cooler before. Now I can drink more beer. Your product kicks ass! "
- Comment on our Youtube video http://www.youtube.com/watch?v=2T0uhsg3U1c#GU5U2spHI_4
Turns Heads
"Last week we were able to assemble and mount the stabilizer to our canoe and went out fishing on a trout lake and did we turn heads and get noticed. Questions were asked in regards as to were the stabilizer was purchased from. We loved it.
Thank you"
S Skarupa
Makes 5-Year-Old Welcome
Thanks for shipping quickly and as promised. Just got them 2 days ago & used them today. They worked great, my 5 year old came along as the third person in the canoe to "help" us fish the Caney Fork River in TN because of the stability offered. Good product, good experience with your company.
Austin Rich
Now Relaxed
"hi jim, just before christmas i purchased a Canoe stabilizer with streamlined Hydrodynamic floats from yourself. ITS FANTASTIC delivery was very quick just customs at this end that took there time.
i do a lot of pike fishing on lake windermere (UK largest lake) in the lake district england. i have had a few scary moments in my canoe on this lake especially over the winter months it can get very rough out on this lake..using your canoe stabilizer rig this winter has given me a totally relaxed fishing experience on this lake even on days when its been quite bad weather. thats a first for me!! thanks again
Chris Brown (now a relaxed canoe fisherman from England) "
Overjoyed by Stability
"We've been overjoyed with your ethafoam stabilizing float kit for the canoe! Now we totally skip telling one another about every move we intend to make, the risk of overturning has been eliminated, and we can now easily move around the canoe and even stand up! The stabilizer kit slaps right into the canoe in mere minutes and does no canoe damage at all. It's seen serious and heavy service. "
Scott K. -- (longtime user of our ethafoam stabilizer, now upgrading to hydrodynamic because he's started motoring)