Sea Eagle PaddleSki 435ps Kayak and Sail Rig
Free Shipping*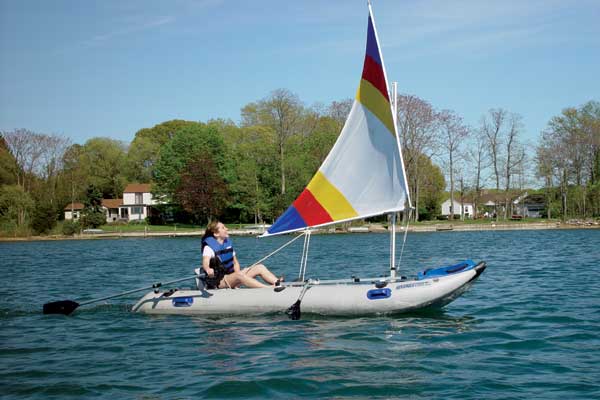 The PaddleSki is fast and rugged. Standard sail is 45 SF nylon. Even this sail is much bigger than Sea Eagle's sail kit . Want bigger still?.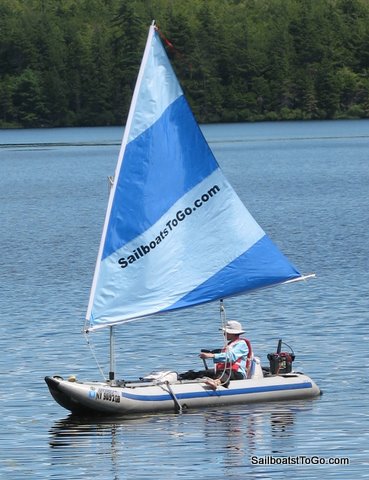 Your sail will not have large logo.
Videos at bottom of page.
The PaddleSki 435ps has a capacity of over 600 lbs and carries 2 people. It weighs 57 lbs and the sail kit weighs 28 lbs. The sail kit folds into a duffel bag & the boat into another. We can provide any paddleski accessory (motor mounts, rowing frame, etc.)

The PaddleSki has great rigidity, durability and speed under sail.




See Paddleski videos at bottom of page.

There are two complete sailboat packages. The Paddleski Deluxe package includes paddles, pump, carry bag, repair kit and sail kit. Item 6014, on our main kayak ordering page. Or you can just buy the sail kit (item 6013), if you already have a paddle ski. Free shipping on Paddleski and on Paddleski/sail kit packages. Without sail kit it is item (6023) . Ordering links below.
The Paddleski Pro Kayak package includes better paddles and better (high back) seats which we strongly recommend, and bow storage bag as well as pump, carry bag and repair kit. Item 6015, on our main kayak ordering page. Free shipping. Without sail kit it is item 6024 . Ordering links below.

BIGGER SAIL FOR MORE POWER - $159 upgrade

For more power, add item 5011 to your shopping cart along with the sail kit (item 6013) or either complete sailboat package (6014 or 6015). This allows you to swap what would otherwise be a 45 SF sail and standard mast for a 55 SF sail as pictured at left and heavy-duty, taller mast. Everything still folds into the optional sail kit duffel bag (item 6007). Item 5011 is a substitution option only. Different sail color schemes available. http://tinyurl.com/nylonsails

Only at SailboatsToGo!

Contact: Jim@sailboatsToGo.com 978 263 7598

Accessories available for PaddleSki (call or email):

Click arrow in middle of screen to start Paddleski video below.
Another video (Cruising the Greek Islands in a Paddleski with sail)
on Youtube: https://www.youtube.com/watch?v=z_kX4HTqiYU
And then later, these same folks came to us for larger sail and mast and made this video::
Jim Luckett's review of the Sea Eagle Paddleski and sail kit:
The Sea Eagle Paddleski is fast and well made. Since the floor between the two air chambers is up high, it does not touch the water and cause drag. Only the two side air chambers are in the water, so this reduced wetted surface is the key to reduced drag on the Paddleski. This also makes the Paddleski easy to paddle. You should be aware, however, that since you are up higher than on a normal inflatable kayak and the air chambers are below you, you don't have real sides to your passenger space. The floor area is slightly depressed, but stuff could still roll out or slide out. Your gear needs to be secured, in other words, when you are using the Paddleski, unlike in a conventional kayak, where the floor is below the air chambers and the air chambers would therefore act to help keep your stuff from falling in the water. That caveat aside, we like the Paddleski and have had a lot of fun on it. Nevertheless, for sailing I prefer the Sea Eagle 380x or 420x where I have more freedom to change seating positions and even hike out a bit. Warranty on the Paddleski is 3 years, from the manufacturer. Jim Luckett is co-owner of SailboatsToGo and a sailing enthusiast.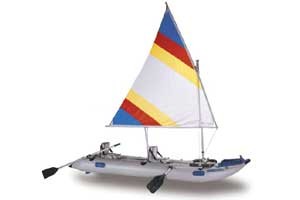 Sea Eagle Paddleski 435PS and our sail kit.
Email Jim@sailboatstogo.com