Sail Kit for Nauticraft Escapade Pedal Boat
from SailboatsToGo
Let the wind do the work and pedal only when you want to!
Nauticraft
enthusiasts, including the owner of Nauticraft, asked us to make them a sailing set-up and so we did and they tell us it works great. We've never set foot on a Nauticraft, but what we do seems to please the Nauticraft crowd so we're going to keep doing it!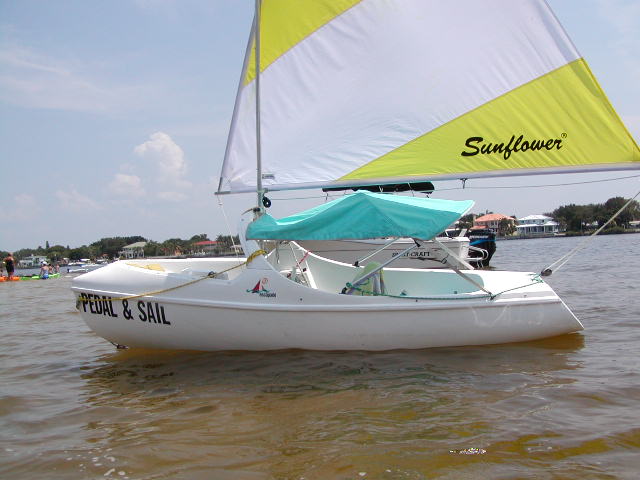 This rig utilizes our 55 SF nylon sail, folding spar set and take-apart mast. Everything comes apart or folds quickly into a compact 4-ft long bundle, so there's no storage problem, and set- up or take-down is quick and easy. Our rigs are made for suitcase sailboats -- extreme portability is our mission -- so expect a product that folds compactly.
(Photo credit: Nancy Sanford)
The sail kit consists of sail, folding spars (the 2 long poles that sail mounts on), take-apart mast, and mast socket ("mast step"). To install, you bolt the socket on the floor under the arch, and then you drill a hole in the top center of the arch for the mast to pass through (the owner of the boat pictured above didn't drill a hole, she mounted a bracket on the back edge of the arch and tied the mast to it. But the owner of Nauticraft did his by drilling a hole using a hole saw in a portable electric drill. Hole saws are bits used to bore large holes to install lock cylinders in doors, etc., and are available at any hardware store or home center that sells tools.
That's all there is too it: The boat inherently has enough directional stability so you don't need anything additional to be able to tack into the wind (no centerboard needed) and the boat already has steering, so no special rudder is required, we're told. And it also apparently has enough inherent right-side-up stability (make your own judgement about its limits as a sailboat -- as we said, we don't have experience with the boat and are just passing on unverified user reports). Many
sail color options
. Most of the sails we sell are nylon. But we also offer upgrade options for dacron in
white
or various
color schemes
.
$459 (55 SF sail) $20 shipping in continental US ( or 45 SF rig, $379). Larger sail means being able to sail in weaker winds and going faster in moderate winds.
Add 55 SF Escapade Sail Rig to Cart
or
Add 45 SF Escapade Sail Rig to Cart
Carrying Bag for your Sailkit
Info: Jim@sailboatsToGo.com
1-888-JOY-SAIL