Kayakamaran

1 sail rig for two kayaks (hardshell or inflatable or 1 of each)

If You Use Inflatable kayaks, You Have An Inflatable Catamaran

Item 6008 on the main kayak rig page.

"Hello Jim,

My wife and I are enjoying sailing with the kayakamaran sail kit. It is a lot of fun." Dave L. June 2010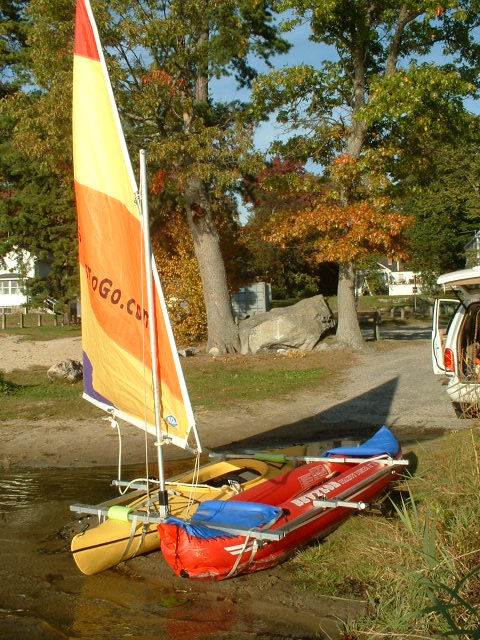 Take 1 SailboatsToGo kayak sail rig with extended crossbars, plus 2 kayaks, and what do you have? An extremely portable catamaran! Or, as we call it, "The Kayakamaran." (Katamayak?) No need for stabilizer floats in this configuration. Lots of room for people and gear. Sails great! Fast, maneuverable, and very stable!
Shown above with 1 inflatable and 1 hard shell kayak, but you could do 2 inflatables or 2 hardshell kayaks. Also shown above with a custom dacron 55 SF sail with custom lettering, all optional. Using different style kayaks together does not upset the handling. Sails straight and true; turns easily. Goes upwind well.
Get two Sevylor K79 inflatable kayaks and this rig and you have a very reasonably priced inflatable catamaran. Or, if you already have a kayak (hard shell or inflatable), consider getting this rig and a K79 as a "sidecar" instead of the kayak rig with stabilizer floats. The stabilizer floats and the K79 cost about the same, so there's not much difference in price.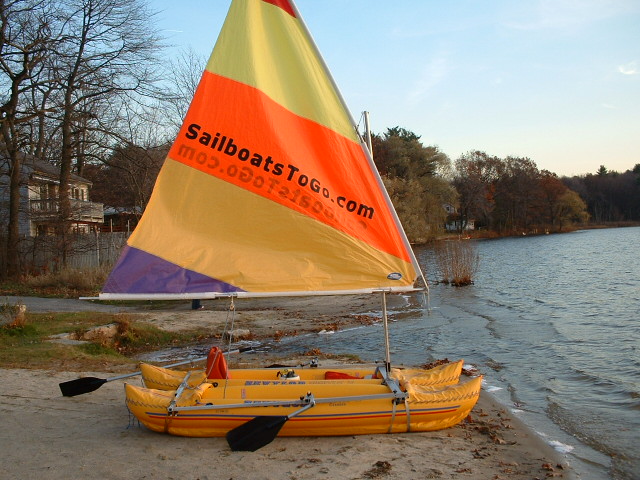 Why is this better than the sail rig on 1 kayak? (a) More room. (b) More stable, which also means it's faster because the mast stays more upright, presenting more sail area to the wind.
Questions? Email: Jim@SailboatsToGo.com
See videos: (1) www.sailboatstogo.com/videos/kayakamaran.avi
(2) www.sailboatstogo.com/videos/Kayakamaran_Maho_05_music.wmv