Hydro-Dynamic Stabilizer Floats
Streamlined Pontoons for Canoes, Kayaks, Jon Boats... if drag would be a drag.
Longer & more streamlined than our classic etha-foam float. Now, 2 options for stability.
Light & inexpensive ethafoam or larger more streamlined hydrodynamics. Ordering links at bottom of page (scroll all the way down)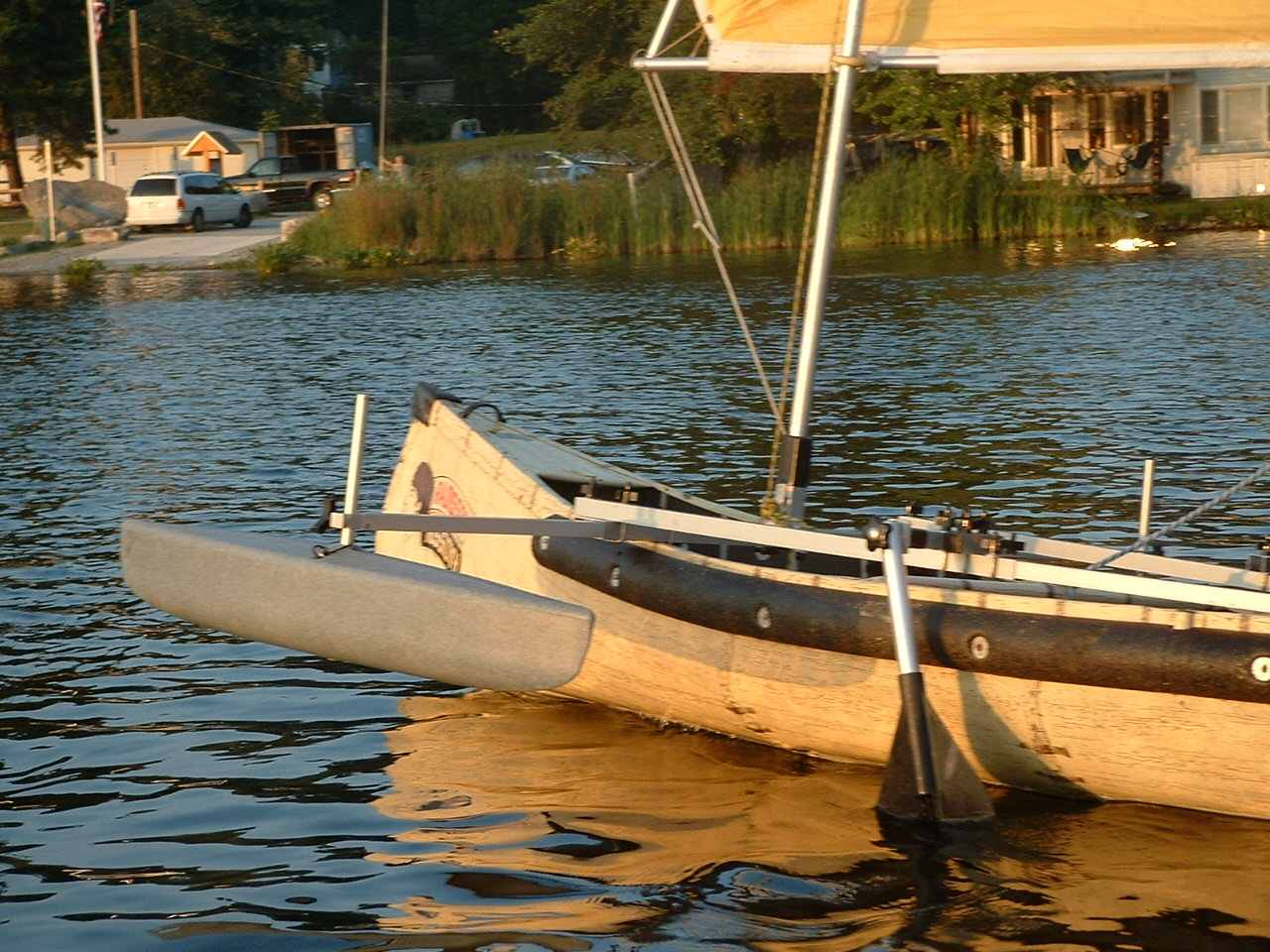 Any of our products that accept stabilizer floats, can be ordered with Hydro-Dynamic (HD) floats or the classic Etha-Foam (EF) floats. (canoe stabilizer outriggers, kayak stabilizers, canoe sail kits, inflatable boat sail kits, kayak sail kits)
Our floats have a single vertical mounting tube design, allowing the float to turn in response to impact, thereby preventing damage. But the friction fittings on the ends of the float arms grip the tubes tight enough to prevent turning in normal operation.
Video of HD floats in action : click here Detailed informative YouTube video: click here
TOP VIEW OF CANOE STABILIZER
BENEFITS OF EACH FLOAT STYLE

Advantages to the HD floats:

Less drag = more speed

Attachment tube at center is removeable for compact storage and off-boat transporting & is longer, so more height adjustment range.

Stronger: Stands up to punishment of motoring or hard sailing.

Ethafoam floats have been disconitnued
Either style float may be purchased as part of our canoe stabilizer, kayak stabilizer, canoe sail rig, kayak sail rig, or inflatable boat sail rig. (Click on any of the red words to go to the appropriate page for that item.)
Or, you can order just the floats & arms for your own do-it-yourself boating project, or to upgrade a SailboatsToGo or Spring Creek sail kit or stabilizer you already own. Ethafoam floats and arms (no crossbar, no gunwale clamps): Add to Cart Hydrodynamic floats and arms (no crossbar, no gunwale clamps): Add to Cart
Questions: Email Jim Luckett at Jim@sailboatstogo.com or call him at 978-263-7598. At SailboatsToGo, LLC you always get personal service from the owner.
| | |
| --- | --- |
| | The new HD pontoon style comes to a sharp point at front and back. Center tube can be removed by simply pulling the attachment pin. It then stores flat in the center groove, held in by the attachment pin. Dimensions: 37 inches long by 7 inches at its fattest point. It's hollow. Material is a high-impact plastic. Weight: 4 lbs. per float. Adjustable up and down; in and out. 5-year Warranty! |
HD floats are made of rugged cross-linked polyethylene and are 37" long, about 6 inches high and 7" wide at the max. 838 cubic inches each. Each pontoon weighs 4 lbs.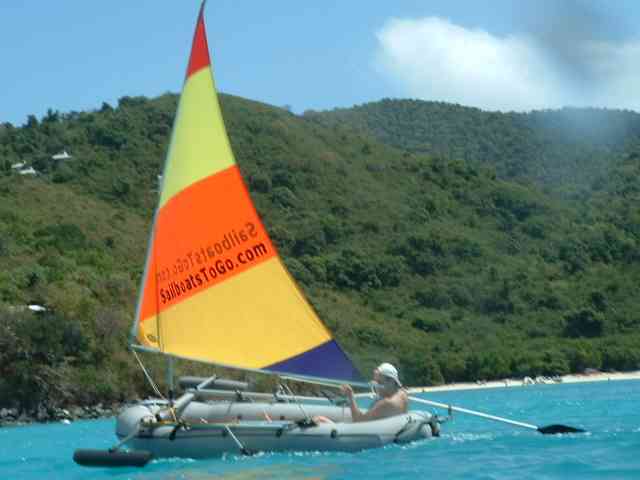 SailboatsToGo inflatable sailboat with optional stabilizer floats (Classic EF style)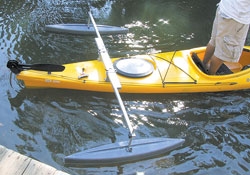 Hydro-Dynamic floats on our kayak stabilizer. Despite what you see in this photo, don't stand in your kayak, even with a stabilizer!
Despite their greater size, the HD pontoons still fit in our optional carrybag, which has both shopping-bag type handles and a shoulder strap. In fact, a complete canoe stabilizer system with HD floats fits, as shown in photos above. (The trick to fitting the floats in is don't align them with each other -- nudge one toward one end of the bag and the other toward the other end, so that the fattest part of each float is some what offset in relation the fattest part of the other float).
Questions? Email Jim@sailboatstogo.com or call him at 978-263-7598.
Buying Links (Clicking one of the links below will put the item in your shopping cart, where you will see price and shipping cost; you will be able to remove the item if you change your mind. Please forgive us for not listing prices and shipping more conveniently, but this is a big website and if we put prices on every page, we're bound to miss some when prices change, leaving us with misleading errors.):
Buy canoe stabilizer system with HD floats $400
Buy carrying bag like the one pictured above $29
Buy larger, even more heavy-duty carrying bag $35
Buy Kayak stabilizer system with HD floats $425
Hi Jim,
I wish to thank you for the wonderful service that your company has given to my father in regard to the stabilizer which for your future reference has already arrived at our door. Thank you once again we will certainly be recommending you to anyone who is looking of similar products.
Thank you
Lindstom Family (Australia)
8915

Shipment of Hydrodynamic stabilizer to Europe, Japan, Australia, etc.




Extra shipping cost to other countries, except Canada.

see note at next item regarding 45" size.
0.00

Shipping**
80.00
Add to Cart
Check Out
8916

Shipping Ethafoam stabilizer to Europe, Japan, Australia Etc.




Shipping cost to other countries, except Canada, for Ethafoam type stabilizer. Shipping the 45" size to Australia, Eastern Europe and most less-developed countries involves additional cost. Email Jim@sailboatstogo.com for details if ordering the 45-inch size from those countries.

0.00

Shipping**
60.00
Add to Cart
Check Out
8917

Shipping stabilizer to Hawaii, Alaska, Canada




Additional shipping cost to these areas for either type of stabilizer.

0.00

Shipping**
40.00
Add to Cart
Check Out
To go to our main canoe stabilizer page click here
*Additional shipping charges apply outside lower 48 states of US and will be added later.