Any-Kayak Upwind Sail Kit
(Note: This is a very long page so please keep scrolling down!)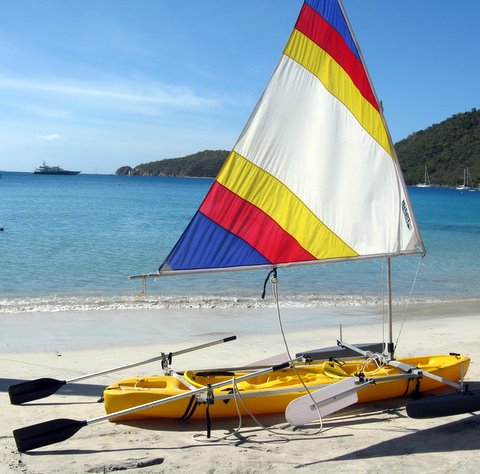 The Any Kayak sail kit includes everything you need to turn your kayak into a real sailboat, capable of tacking into the wind, or sailing across the wind or downwind. Does not require your kayak to have its own rudder, because steering is provided. Straps onto your kayak, so there is no drilling required. Folds to a compact 4-foot-long bundle that you can transport in your car's trunk and store under a bed or in the back of closet. Questions: Jim@sailboatsToGo.com , 978 263 7598. Pictured above with standard 45 SF sail (upgrade to 55 SF sail is available as item 5011), 2 steering oars to make it more convenient to switch steering hands (standard is one), and the upgraded leeboards.
"Jim, Thanks for everything. Very happy with my sail rig, have used it several times already on The gulf of Mexico off Clearwater beach and in Clearwater Harbor." -- Kevin J., buyer of Any Kayak Sail Rig and using it on a Hobie 12 inflatable.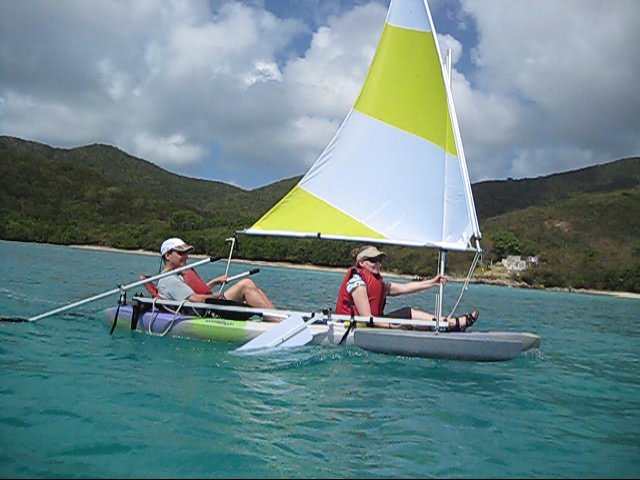 This shot (above) was taken during a trip to the Caribbean. We brought the sail kit and borrowed this ocean kayak from the place where we were staying. This is actually a frame from a video. See the video clips shot that day (unedited) Click Here We had so much fun!
Detailed customer review with photos - click here.
6004

The Any Kayak upwind Sail Rig with Stabilizers


Upwind sail rig for almost any kayak -- inflatable or rigid; also fits the Stearns inflatable canoe, or the Tote-N-Boat folding canoe. Attaches using straps. Makes your kayak into a complete sailboat, including leeboards, mast,sail, spars, rigging, and steering. How to sail instructions for beginners included. Includes hydrodynamic outrigger stabilizer floats to keep you upright (item 6020 is same rig without floats). Long aluminum side rails help to make inflatables more rigid and connect the front assembly to the steering oar assembly behind you so that no drilling into your rigid kayak is required on noninflatables. If you're going to use it on a rigid kayak or Tote-N-Boat, just drop us an email when you order so we give you the right version: Jim@sailboatstogo.com. This kit has a lot in common with our other sail kits, so if you want to be able to use it on regular canoes, kayaks or inflatable rafts, you'll only need a few extra pieces. Email or call us and let us know what versatility you want and we'll set you up with the right additional pieces. Length of standard side pieces is adjustable from 5 to 7 feet fit large and small-cockpit kayaks. Different length ranges available by request. For accessories, upgrades and other models see our main kayak sail kit page. The additional shiping cost to UK, Western Europe, Japan is item 1999 . Like all our sail rigs, this model folds and comes apart for transport and storage. With item 5092 leeboard upgrade, rig (excluding stabilizer floats) fits into compact bag just 7 inches x 9 inches x 47 inches (item 3012)! Rig and stabilizers, even with standard leeboards, fits in our #6005 bag, which is 12" x 10" x 48" (like a set of golf clubs). Standard mounting method is by straps and it works great. If you prefer having a bolt-on connection, order 2 pair of our kayak adapters and deck brackets ($50/pair) for this rig, or consider our item 6025 bolt-on rig with no side bars. Hydrodynamic stabilizer floats, leeboards, 1 steering oar, 45 SF nylon sail included. Same rig without stabilizers is item 6020. Upgrade to larger sail, with taller & stronger mast by adding item 5011 to your rig purchase. See Video Click Here


Put into cart to see price (you can always take it out again)
Add to Cart
Check Out
6001

Any Kayak upwind sail rig with inflatable stabilizers


Straps onto just about any kayak and has inflatable stabilizer floats (amas) to help prevent capsizing. Adjustable for kayaks of different lengths and widths. Complete sail kit including sail, mast, frame, rigging, leeboards and 1 steering oar. Carry bag additional (item 6005). Click Here for more information on accessories, upgrades and sail colors. Same rig with rigid stabilizer floats is item 6004 or no stabilizers is item 6020. The advantage of rigid stabilizers over inflatable ones is much lower drag if submerged by strong winds. But under most conditions the inflatables work very well. And they are more portable Please send us an email after ordering width and type of kayak. Folds to compact bundle less than 48 inches long.
Put into cart to see price


Add to Cart
Check Out
Here is the same rig on an inflatable kayak (Innova Helios tandem):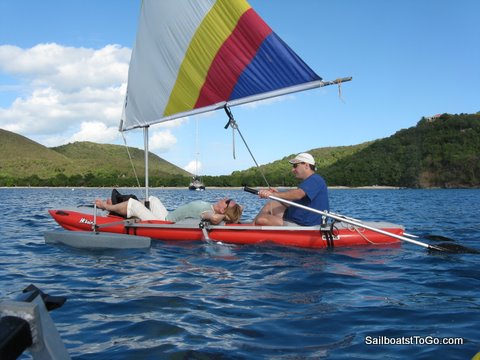 Click arrow in center of picture below to launch video. Turn up your sound and kick back!
Here is the Any Kayak Sail Rig on a sit-inside kayak. More photos below this video so keep scrolling down after watching second video.
See what you can do with colors: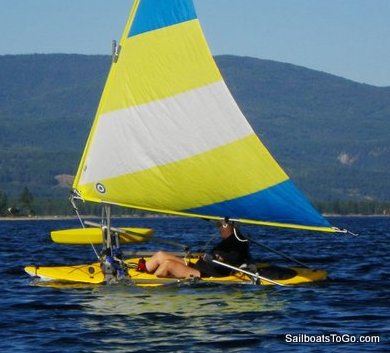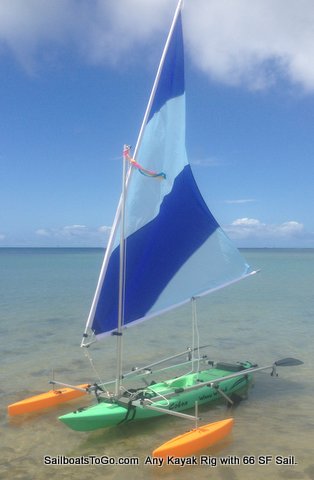 Shown with color coordinated stabilizer floats and Neil Pryde sail (at left). We have yellow, red, gray and mango floats and wide variety of sails. At right above, see oversized 66 SF sail in color scheme B with mango floats. Below, see 55 SF sail in color scheme D on a Sea Eagle 330 inflatable kayak: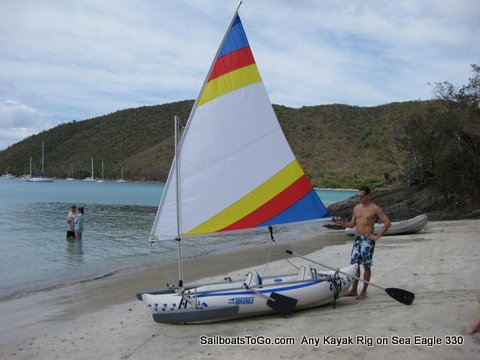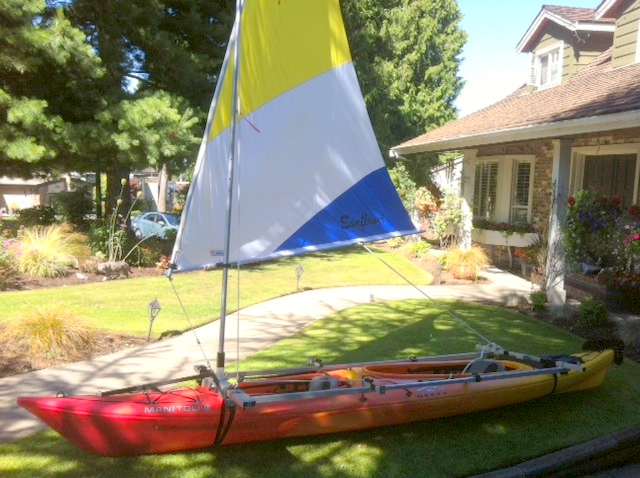 Sitting in a front yard in Vancouver Canada we see a customer's tandem sit-in kayak with the 6004 rig (he didn't put on the stabilizers nor the leeboards for this photo, but he has them) and the larger 55 SF sail and heavy duty mast. He writes in August 2013: "You probably don't remember me, but I purchased one of your systems in August of '09. I live in the Vancouver area. I purchased the model 6004, with all the extras including stabilizers, leeboards, etc. I also upgraded to the 55 sq ft sail. I have been very happy with everything." Later on the phone he related that he brings the kayak and sail kit on his large cruising sailboat and then when he's on a mooring in some harbor he sails around off the big boat in his kayak with this rig.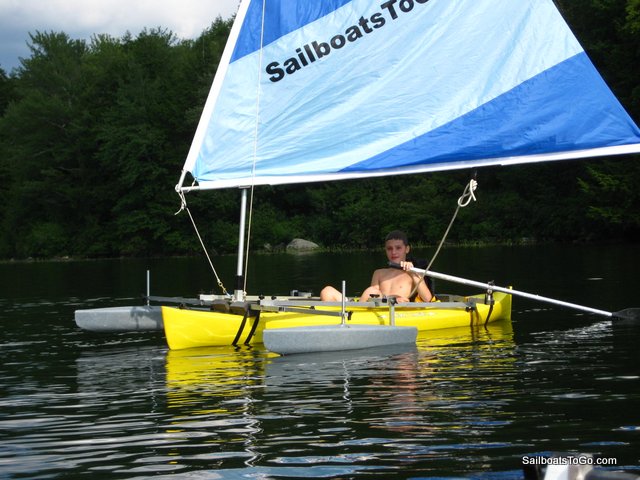 Here is the 6004 rig on a little 10 foot solo sit-inside kayak, illustrating its extreme adjustability. You can get this same 2-tone blue sail without the logo. Sail B we call it.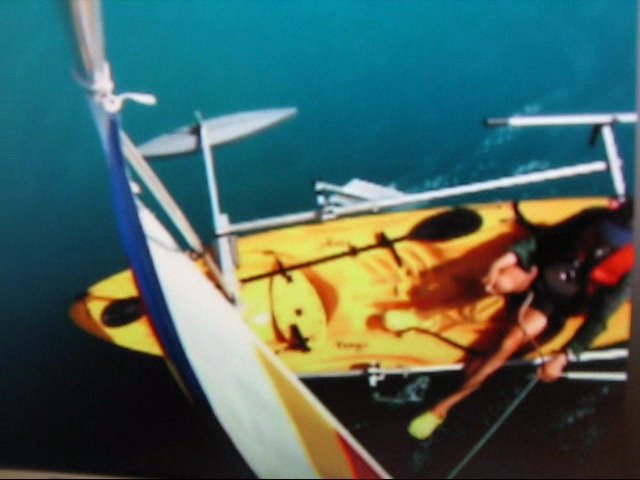 This was another case of borrowing a kayak at our destination to go with the sail kit we had brought along. To get this shot, we attached a small camera to the top of the sail pointing down and shot video, then picked a frame from the video to make this still.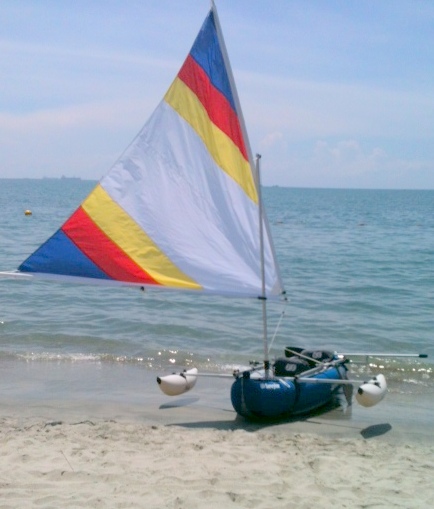 Above: SailboatsToGo "Any Kayak" sail kit with inflatable stabilizers (item 6001) on a Sevylor Colorado inflatable canoe.
Below: Assembly and Mounting How-To Video: