Rowing rig for Snark or Sunflower
Item #: 8008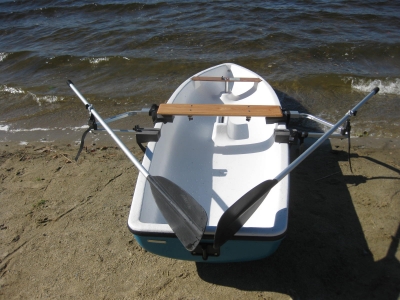 Add versatility to your sailboat hull! No, you probably would not want this rowing rig aboard while you are sailing, but you may often want to go rowing instead of sailing, without buying a different boat for the purpose.

For more photos click here.

Includes: Oars, oarlocks, aluminum arms to receive oarlocks, and seat (now a plastic seat with cushion top that sits centered, not full width wood seat). Entire unit straps to your hull, cushioned by foam blocks. Straps and blocks also included. If you want to be more stable, we offer 2 different styles of stabilizer floats (pontoons) on outrigger arms that snap into the rowing unit. Add item 1006 (hard plastic streamlined deluxe pontoons) or item 1013 (inflatable pontoons). If you want to be able to use the pontoons for sailing also, say that in the comment section during checkout and we will provide the additional little parts and instructions to adapt your pontoons for sailing (free with purchase of rowing rig and pontoons -- some of the parts from the rowing rig must also be utilized when putting pontoons on your boat for sailing)! Note: item 1006 pontoons are best for sailing.
PRICE: $324.00 + $25.00 S&H --> BUY NOW! <--
---