Upgrade to Super Deluxe kayak sail kit
Item #: 6101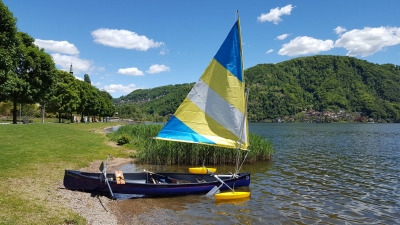 This upgrades your kayak sail kit purchase to the Super Deluxe version from the Standard kayak sail kit. This upgrade includes all the upgrades that come with our Deluxe version upgrade (55 SF sail, heavy duty mast, carry bag and quick-release leeboard mounts) plus these ADDITIONAL upgrades at a discounted package price: (1) Neil Pryde Dacron sail upgrade and (2) Polycarbonate unbreakable leeboards. All with no addition to your shipping cost.

IMPORTANT: This item can only be purchased together with a sail kit or sailboat in the same order. It cannot be ordered by itself.

Consider adding stabilizers to help keep you right-side-up, if not already included in your order.*

Inflatable stabilizers: Click Here.

Rigid stabilizers: Click Here.

*Certain kayak models clearly require stabilizers and so we include them as basic equipment. Dinghies and some other kayaks are stable enough that many people will not feel they need stabilizers, so we make them optional. Sail kits may or may not include stabilizers -- check the description. If stabilizers are not mentioned as being included in the description of an item, they are not included.

If getting the rigid hyrdrodynamic stabilizers, consider upgrading them to the square post system, item 1031 (click).

This upgrade item (6101) does not itself add stabilizers to your order.
PRICE: $298.00 + $0.00 S&H --> BUY NOW! <--
---