SUT-350SD Trailex Boat Dolly
Item #: 5512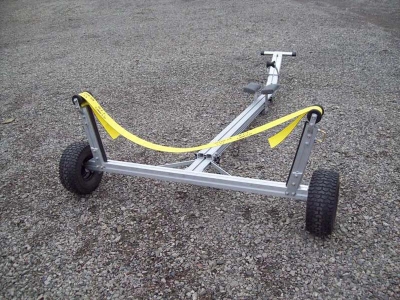 The perfect all aluminum fully adjustable hand dolly. With it's wide air filled tires this dolly easily transports many small boats, canoes, kayaks up to 350 pounds. the length is adjustable from 8'6" to 14' with no tools. The 3" wide strap supporting the back end of the boat is fully adjustable for almost any type of boat. Very clever design! All SUT trailers ship in kit form, shipping additional.Shipping Weight 50 pounds. Assembled width 76". Easy nut & bolt assembly with complete instructions.

Shipping cost shown is an estimate. Cost will be adjusted to actual once you have placed your order and we have obtained a quote from a carrier. You can cancel if you don't like the final shipping quote.

Also see the smaller 5510 dolley.
PRICE: $599.00 + $100.00 S&H --> BUY NOW! <--
---