Rowing Outriggers - Non-adjustable. Heavy duty. Fixed-span.
Item #: 5230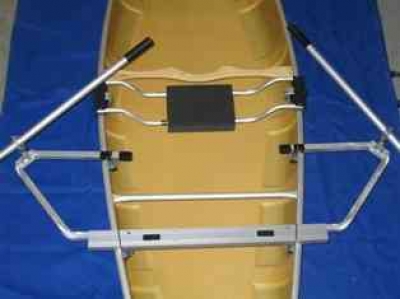 Gets you oar pivot points farther apart than width of the canoe, for better leverage when rowing. Price is for a pair (right and left). Requires crossbar and gunwale clamps from our canoe stabilizer or canoe sail kit, or can be used with Accessory Seat and no crossbar.

Optional lift blocks raise up the oarlock sockets by 2 3/4" giving what many people find to be a more comfortable set of body mechanics. Click Here.

Photo shows complete rowing package with drop in seat. This item is for the outriggers only. One end of each rowing outrigger snaps into crossbar or Accessory Seat. Other end clamps to your canoe gunwale (clamps included). Oars, seat, crossbar sold separately. Accepts 1/2" diameter oarpin (same as the pin on our steering oars). If you need crossbar and clamps (i.e., maybe you are getting a sail kit, but don't want the rowing setup to share parts with the sailing setup) they can be ordered separately. Detailed photos and dimensions click here.

Alternative: Consider our adjustable rowing outriggers.
PRICE: $160.00 + $18.00 S&H --> BUY NOW! <--
---