Sliding Seat for Canoe Rowing
Item #: 5222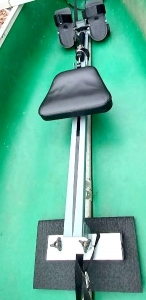 Drop this sliding seat into your canoe, add our clamp-on crossbar and our clamp-on rowing outriggers (either type) and you are ready to really go fast and get a full body workout! (Or use with any oar setup you already have).

But wait there's more! This also makes into a home rower at no additional cost! In the winter you can keep in shape using this indoors with the additional included parts -- a T handle and adjustable resistance cylinder. In fact, this item was originally made as a home exercise machine. We convert to canoe use by removing some parts and adding our own clamp-on rear leg to lower it so that it will be stable enough for on-water use.

This sliding seat is very sturdy, smooth and quiet. Weighs only 14 pounds as a canoe rower. Requires 52 inches of open space to fit in your canoe.

To make a complete rowing outfit, also purchase any version of the Basic Rowing Kit. Or, if you already have some of the elements of the basic rowing kit, order just what you need. In total, between whyat you have and what you buy, you will need a crossbar, gunwale clamps, rowing outriggers, oarpins and oars to go with this seat. For a picture of it in a canoe with the other items you need click here. (You can use the back button of your browser to return afterwards).

To complete your setup, visit our online rowing equipment shop and pick out one of the base rowing packages item 5077 or item 5136.

See video click here.
PRICE: $199.00 + $30.00 S&H --> BUY NOW! <--
---