Mast step (socket)
Item #: 5146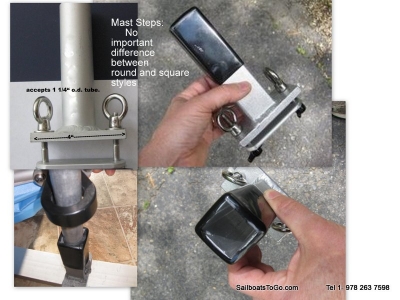 The mast step is the metal socket that receives the bottom of the mast and holds it vertical. Click image to enlarge. This can be directly bolted to a solid, strong surface or it can clamp around a crossbar, such as our front crossbar for the Kayak, dinghy, and h-type canoe sail kits. For the V-style canoe sail kit, order the canoe mast step and foot instead, so you get the additional parts needed to brace to the bottom of the canoe. Accepts 1 1/4 inch outside diameter mast. We have 2 styles, a square barrel one and a round barrel one. No functional difference, it just so happens we source them from 2 different manufacturers and one likes welding square things and the other likes welding round. We'll send whichever one our hand lands on when we reach in the box unless you express a preference. These mast steps are so strong they are the only support needed for your mast if they are strongly connected to the boat. No stays (guy wires) required. These are also useful in a variety of non-marine construction applications to hold up posts or used upside down to connect a top rail to a post. Material is marine-grade aluminum. Often bought together with mast, spars and sail, item 5000.
PRICE: $59.00 + $7.00 S&H --> BUY NOW! <--
---
© 2001 - 2023 SailboatsToGo, LLC. All rights reserved.