Pulley Lift Ceiling Storage System
Item #: 5116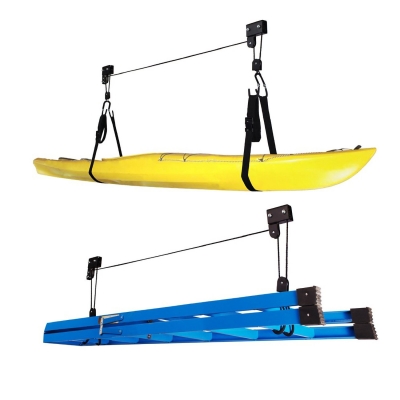 Raises boat to ceiling for storage. Double Hook stores bicycles, canoes, deck furniture, ladders, kayaks, Super Snarks, Sea Snarks, Sunflowers, Sea Skimmers, inflatables and more. Raises and lowers loads in seconds. Extra storage in unused areas. Easy one person operation. Versatile to install on open rafters or finished ceiling. Use it to get your ladder up and out of the way. Lifting capacity of 100 lbs. and safety release mechanism that keeps it from accidentally releasing. Straps included. Length of rope provided will work on up to 12' ceilings. The rope provided is polypro, which may fray and be uncomfortable to hands, so we recommend you consider replacing the rope with nylon braid (any hardware store or home center), but the hardware provided is excellent and well worth the price by itself.
PRICE: $55.00 + $12.00 S&H --> BUY NOW! <--
---
© 2001 - 2023 SailboatsToGo, LLC. All rights reserved.