Kayak Adapters - Pair of legs & deck brackets for attaching crossbar to kayak
Item #: 5096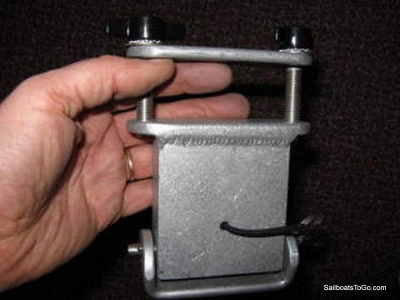 Legs and deck brackets for mounting a crossbar to a kayak. Bolt deck brackets (small, low-profile, with rounded corners) to front or rear deck. Then legs that crossbar sits on mount to deck brackets by means of easy-on, easy-off pin. Alternative to strap mounting of item 6004 sail kit (2 pair required). Also good for mounting canoe stabilizer on your kayak. CLICK HERE FOR PICTURES Extra deck brackets available - item 5104 - so you can swap one stabilizer between 2 kayaks or between front and back deck of same kayak. For single adapter see item 5091. For set of 5 see item 5106. Kayak sail kit options, upgrades and accessories page: Click Here.
PRICE: $140.00 + $0.00 S&H --> BUY NOW! <--
---
© 2001 - 2023 SailboatsToGo, LLC. All rights reserved.