kayak Adapter - leg and deck bracket for mounting stabilizer or sail kit
Item #: 5091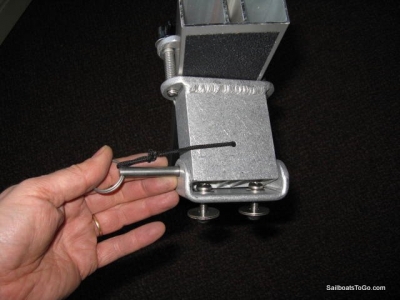 This is one leg and one bracket, but minimum order is 2. A set of 5 of these, plus the item 2021 sail kit, plus stabilizer floats (item 5028)makes a sail kit for non-inflatable kayak that is an alternative to our item 6004 sail kit, with the advantage that it is open on the sides (no full-length bars connecting front and rear crossbars) and is mechanically mounted (no straps). Yet, it comes right off by pulling the pins that connect the deck brackets to the legs. Also sold in pairs (item 5096) or as a set of 5 (item 5106). Kayak sail kit options, upgrades and accessories page: Click Here.
PRICE: $70.00 + $0.00 S&H --> BUY NOW! <--
---
© 2001 - 2023 SailboatsToGo, LLC. All rights reserved.