Link arms adaptor for use with 4 floats and arms
Item #: 5050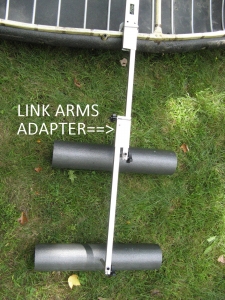 Allows you to extend the width of the second pair of floats in a 4-float stabilizer. Can only be used in the extended position at very low speed or stopped.

The adaptor slides on the float arms of the first pair of floats and then the arms of the second pair of floats plug into the adaptor. Requires 2 pairs of floats and arms, not included. Shipping of $10 will be added manually later if we are not able to ship this with something else in your order.

If you only have 2 floats and arms and want to use this adapter to get wider distance between your floats, then you need this adaptor plus another pair of arms, which is sold as item 5051 (click).


PRICE: $49.00 + $0.00 S&H --> BUY NOW! <--
---