Spars for 55 Sq. Ft. Sail including Sunflower
Item #: 5044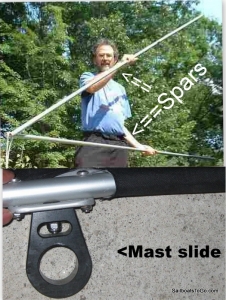 Folding spar set for Sunflower 55 Sq. Ft. sail. Stronger than original Sunflower non-folding spars, and saves on shipping. Includes swiveling mast slide (fitting that connects boom to mast) Mast and sail not included but available separately. item 5019 is the mast for a Sunflower sailboat and item 5039 is the mast for our sail rigs. item 5040 is the 55 Sq. Ft. sail for Sunflowers and our rigs. item 5169 is the mast, spars, slide, ropes, and 55 sq. ft. sail for our rigs.
PRICE: $169.00 + $20.00 S&H --> BUY NOW! <--
---
© 2001 - 2023 SailboatsToGo, LLC. All rights reserved.