Sail, spars, ropes, mast slide for Super Snark
Item #: 5028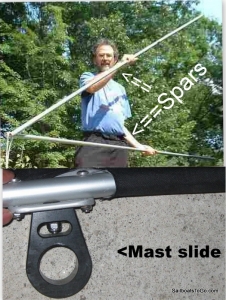 Stronger than original equipment, yet our boom and spar fold so they're inexpensive to ship and convenient for you to store and transport. For same item but without sail see item 5023. Carry your sail in the trunk, not on the roof, because you can fold and unfold the sail while it's on the spars, with our system. Folds down into 4-ft. long bundle. Aluminum. Includes swiveling boom guide assembly, ropes and all other necessary hardware that attaches to boom and top spar. Uses Racelite pulleys instead of rings on the boom for the sheet line, for smoother operation and greater durability. Complete instructions included.

Includes ropes and swiveling mast slide. With original Snark equipment all you get for connecting the boom to the mast is a rigid metal u-shaped fitting, that will bend and possibly break if you accidentally lift up on the tail end of the boom. With our equipment you get a swiveling mast slide that eliminates this potential problem.

For same item but with mast included see item 5024. In stock at SailboatsToGo. Usually ships within 3 business days after you order.

Sail is a nylon sail in the rainbow stripes pattern unless you tell us you prefer one of the others.
PRICE: $249.00 + $20.00 S&H --> BUY NOW! <--
---